'URITY ON TAP
14th September 1985
Page 49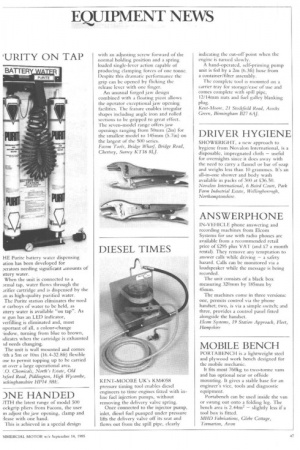 Page 49, 14th September 1985 —
'URITY ON TAP
Close
HE Purite battery water dispensing ation has been developed for
Derators needing significant amounts of ittery water.
When the unit is connected to a Dr mal tap, water flows through the arifier cartridge and is dispensed by the an as high-quality puritied water. The Purite station ehiminates the need ucarboys of water to be held, as attery water is available "on tap". As le gun has an LED indicator,
verfilling is eliminated and, most aportant of all, a colour-change indow, turning from blue to brown, idicates when the cartridge is exhausted id needs changing.
The unit is wall mounted and comes rith a 5m or 101n (16.4-32.8ft) flexible use to permit topping up to be carried ut over a large operational area .0. Chemicals, North's Estate, Old )xford Road, Piddington, High Wycombe, uckingharnshire HP/4 3B.E.