OPTARE CHOSE
14th September 1985
Page 45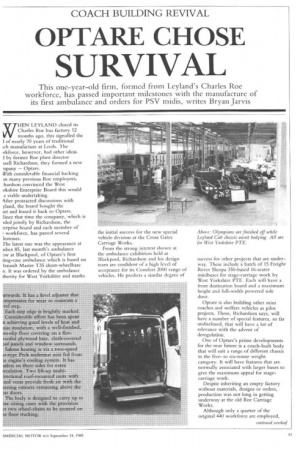 Page 46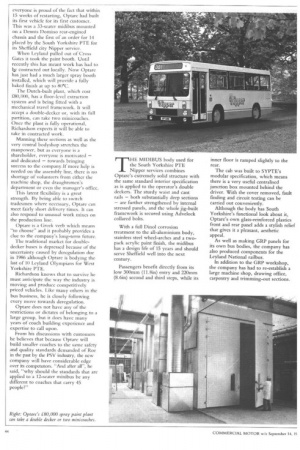 Page 45, 14th September 1985 —
OPTARE CHOSE
Close
SURVIVAL
This one-year-old firm, formed from Leyland's Charles Roe workforce, has passed important milestones with the manufacture of its first ambulance and orders for PSV midis, writes Bryan Jarvis
xiTHEN LEYLAND dosed its Charles Roe bus factory 12 months ago, this signalled the I of nearly 70 years of traditional ich manufacture at Leeds. The ,rkforce, however, had other ideas. 1 by former Roe plant director ssell Richardson, they formed a new npany — Optare.
With considerable financial backing m many previous Roe employees, hardson convinced the West .rkshire Enterprise Board this would a viable undertaking.
kfter protracted discussions with yland, the board bought the Int and leased it back to Optare. since that time the company, which is ided jointly by Richardson, the terprise board and each member of workforce, has passed several lestones.
The latest one was the appearance at nbex 85, last month's ambulance aw at Blackpool, of Optare's first ting-case ambulance which is based on lenault Master T35 short-wheelbase n. It was ordered by the ambulance thority for West Yorkshire and marks the initial success for the new special vehicle division at the Cross Gates Carriage Works.
From the strong interest shown at the ambulance exhibition held at Blackpool, Richardson and his design team are confident of a high level of acceptance for its Comfort 2000 range of vehicles. He predicts a similar degree of success for other projects that arc underway. These include a batch of 15 Freight Rover Sherpa 350-based 16-seater minibuses for stage-carriage work by West Yorkshire PTE. Each will have a front destination board and a maximum height and full-width powered side door.
Optare is also building other mini coaches and welfare vehicles as pilot projects. These, Richardson says, will have a number of special features, so far undisclosed, that will have a lot of relevance with the advent of deregulation.
One of Optare's prime developments for the near future is a coach-built body that will suit a range of different chassis in the fiveto six-tonne weight category. It will have features that are normally associated with larger buses to give the maximum appeal for stagecarriage work.
Despite inheriting an empty factory without materials, designs or orders, production was not long in getting underway at the old Roe Carriage Works.
Although only a quarter of the original 440 workforce are employed, everyone is proud of the fact that within 15 weeks of restarting, Optare had built its first vehicle for its first customer. This was a 33-seater midibus mounted on a Dennis Domino rear-engined chassis and the first of an order for 14 placed by the South Yorkshire PTE for its Sheffield city Nipper service.
When Leyland pulled out of Cross Gates it took the paint booth. Until recently this has meant work has had to bs contracted out locally. Now Optare has just had a much larger spray booth installed, which will provide a fully baked finish at up to 0°C.
The Dutch-built plant, which cost £80,000, has a floor-level extraction system and is being fitted with a mechanical travel framework. It will accept a double-decker or, with its full partition, can take two rninicoaches. Once the plant is fully operational, Richardson expects it will be able to take in contracted work.
Manning these sections as well as the very central bodyshop stretches the manpower, but as everyone is a shareholder, everyone is motivated — and dedicated — towards bringing success to the company.lf more help is needed on the assembly line, there is no shortage of volunteers from either the machine shop, the draughtsmen's department or even the manager's office.
This latent flexibility is a great strength. By being able to switch tradesmen where necessary, Optare can meet fairly short delivery times. It can also respond to unusual work mixes on the production line.
Optare is a Greek verb which means "to choose" and it probably provides a clue to the company's long-term future.
The traditional market for doubledecker buses is depressed because of the uncertainty caused by deregulation due in 1986 although Optare is bodying the last of 10 Leyland Olympians for West Yorkshire PTE.
Richardson knows that to survive he must anticipate the way the industry is moving and produce competitively priced vehicles. Like many others in the bus business, he is closely following every move towards deregulation.
Optare does not have any of the restrictions or dictates of belonging to a large group, but it does have many years of coach building experience and expertise to call upon.
From his discussions with customers he believes that because Optare will build smaller coaches to the same safety and quality standards demanded of Roe in the past by the PSV industry, the new company will have considerable edge over its competutors. "And after all", he said, "why should the standards that are applied to a 12-seater minibus be any different to coaches that carry 45 people?"
THE MIDIBUS body used for the South Yorkshire PTE Nipper services combines Optare's extremely solid structure with the same standard interior specification as is applied to the operator's double deckers. The sturdy waist and cant rails — both substantially deep sections — are further strengthened by internal stressed panels, and the whole jig-built framework is secured using Advelock collared bolts.
With a full Dinol corrosion treatment to the all-aluminium body, stainless steel wheel-arches and a twopack acrylic paint finish, the midibus has a design life of 15 years and should serve Sheffield well into the next century.
Passengers benefit directly from its low 300mm (11.8in) entry and 220tnrn (8.6in) second and third steps, while its inner floor is ramped slightly to the rear.
The cab was built to SYPTE's modular specification, which means there is a very useful centralised junction box mounted behind the driver. With the cover removed, fault finding and circuit testing can be carried out conveniently.
Although the body has South Yorkshire's functional look about it, Optare's own glass-reinforced plastics front and rear panel adds a stylish relief that gives it a pleasant, aesthetic appeal.
As well as making GRP panels for its own bus bodies, the company has also produced components for the Leyland National railbus.
In addition to the GRP workshop, the company has had to re-establish a large machine shop, drawing office, carpentry and trimming-out sections.