EDITORIAL
14th September 1985
Page 4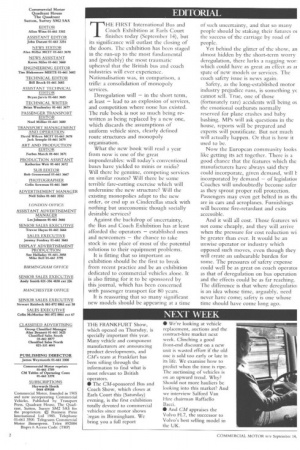 Page 4, 14th September 1985 —
EDITORIAL
Close
THE FIRST International Bus and Coach Exhibition at Earls Court finishes today (September 14), but its significance will outlast the closing of the doors. The exhibition has been staged in the run-up to the most fundamental and (probably) the most traumatic upheaval that the British bus and coach industries will ever experience. Nationalisation was, in comparison, a trifle: a consolidation of monopoly services.
Deregulation will — in the short term, at least — lead to an explosion of services, and competition where none has existed. The rule book is not so much being rewritten as being replaced by a new one, which discards the assumptions of uniform vehicle sizes, clearly defined route structures and monopoly organisation.
What the new book will read a year from now is one of the great imponderables: will today's conventional buses have yielded to minis or midis? Will there be genuine, competing services on similar routes? Will there be some terrible fare-cutting exercise which will undermine the new structure? Will the existing monopolies adapt to the new order, or end up as Cinderellas stuck with nothing but uneconomic though socially desirable services?
Against the backdrop of uncertainty, the Bus and Coach Exhibition has at least afforded the operators — established ones and newcomers — the chance to take stock in one place of most of the potential solutions to their equipment problems.
It is fitting that so important an exhibition should be the first to break from recent practice and be an exhibition dedicated to commercial vehicles alone. It is also fitting for it to be sponsored by this journal, which has been concerned with passenger transport for 80 years.
It is reassuring that so many significant new models should be appearing at a time of such uncertainty, and that so many people should be staking their futures oi the success of the carriage by road of people.
Yet behind the glitter of the show, an almost hidden by the short-term worry deregulation, there lurks a nagging won which could have as great an effect as ar spate of new models or services. The coach safety issue is news again.
Safety, as the long-established motor industry prejudice runs, is something ye cannot sell. True, one of those (fortunately rare) accidents will being ot the emotional outbursts normally reserved for plane crashes and baby bashing. MPs will ask questions in the house, reports will be prepared and experts will pontificate. But not much will actually happen. Or that is how it used to be.
Now the European community looks like getting its act together. There is a good chance that the features which the manufacturers have always said they could incorporate, given demand, will incorporated by demand — of legislatior Coaches will undoubtedly become safer as they sprout proper roll protection. Passengers may even get belted in as thc are in cars and aeroplanes. Furnishings will become fire-retardant and exits accessible.
And it will all cost. Those features wi not come cheaply, and they will arrive when the pressure for cost reduction wi be greater than ever. It would be an unwise operator or industry which opposed such moves, even though they will create an unbearable burden for some. Tile pressures of safety expense could well be as great on coach operatoi as that of deregulation on bus operation and the effects could be as far reaching. The difference is that where deregulatioi is an idea whose time, arguably, need never have come; safety is one whose time should have come long ago_