ROGUE ROVER
14th September 1985
Page 22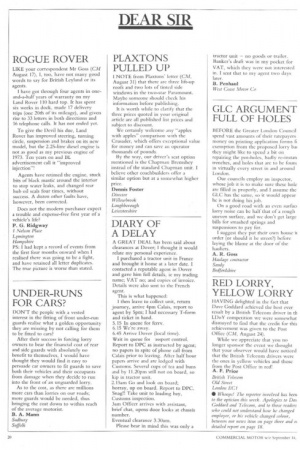 Page 22, 14th September 1985 —
ROGUE ROVER
Close
LIKE your correspondent Mr Goss (CM August 17), I, too, have not many good words to say for British Leyland or its agents.
I have got through four agents in oneand-a-half years of warranty on my Land Rover 110 hard top. It has spent six weeks in dock, made 17 delivery trips (one 20th of its mileage), and given rise to 33 letters in both directions and 16 telephone calls. It has not ended yet.
To give the Devil his due, Land Rover has improved steering, turning circle, suspension and brakes on its new model, but the 2.25-litre diesel engine is not as good as my previous engine of 1973. Ten years on and BL advertisement call it "improved injection"!
Agents have retimed the engine, stuck bits of black mastic around the interior to stop water leaks, and changed rear hub oil seals four times, without success. A dozen other faults have, however, been corrected.
Does not the modern purchaser expect a trouble and expense-free first year of a vehicle's life?
P. G. Ridgway 1 Nelson Place Lymington Hampshire PS: I had kept a record of events from the first four months onward when I realised there was going to be a fight, and have retained all letter duplicates. The true picture is worse than stated.