GLC ARGUMENT FULL OF HOLES
14th September 1985
Page 22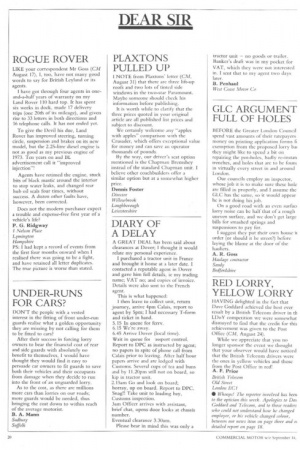 Page 22, 14th September 1985 —
GLC ARGUMENT FULL OF HOLES
Close
BEFORE the Greater London Council spend vast amounts of their ratepayers money on printing application forms fi exemption from the proposed lorry bat they might like to spend a bit on repairing the pot-holes, badly re-instatt trenches, and holes that arc to be fowl( in virtually every street in and around London.
Our councils employ an inspector, whose job it is to make sure these hole are filled in properly, and I assume the GLC has the same, so it would appear he is not doing his job.
On a good road with an even surfao lorry noise can be half that of a rough uneven surface, and we don't get large bills for smashed springs and suspensions to pay for.
I suggest they put their own house Mi order (or should it be street?) before laying the blame at the door of the hauliers.
A. R. Goss Haulage contractor Sandy Bedfordshire