DIARY OF A DELAY
14th September 1985
Page 22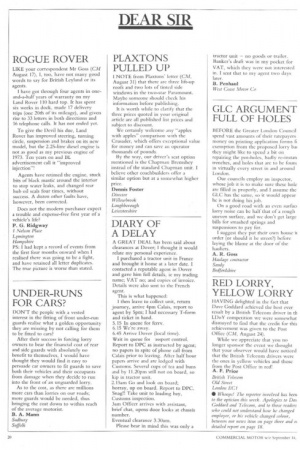 Page 22, 14th September 1985 —
DIARY OF A DELAY
Close
A GREAT DEAL has been said about clearances at Dover; I thought it would relate my personal experience.
I purchased a tractor unit in France and brought it home at a later date. I contacted a reputable agent in Dover and gave him full details, ie my trading name; VAT no; and copies of invoice, Details were also sent to the French agent.
This is what happened: I then leave to collect unit, return journey, arrive 4pm Calais, report to agent by 5pm; I had necessary T-form and ticket in hand.
5.15 In queue for ferry.
6.15 We're away.
6.45 Arrive Dover (local time). Wait in queue fol .assport control. Report to DPC as instructed by agent; no papers in spite of phone call from Calais prior to leaving. After half hour papers arrive and are lodged with Customs. Several cups of tea and buns and by 11.20pin still not on board, so kip in tractor unit.
2.15arn Go and look on hoard; horray, up on board. Report to DPC. Snag!? Take unit to loading hay, Customs inspection.
3am Officer arrives with assistant, brief chat, opens door looks at chassis number.
Eventual clearance 3.30arn.
Please bear in mind this was only a tractor unit — no goods or trailer. Banker's draft was in my pocket for VAT, which they were not interested in. I sent that to my agent two days later.
B. Penhaul West Coast Motor Co