Runaway wheels kill
14th September 1985
Page 20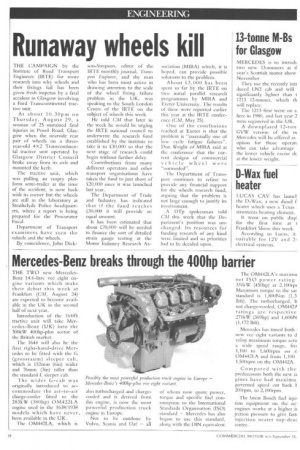 Page 20, 14th September 1985 —
Runaway wheels kill
Close
THE CAMPAIGN by the Institute of Road 'Transport Engineers (IRTE) for more research into why wheels and their fixings fail has been given fresh impetus by a fatal accident in Glasgow involving a Ford Transcontinental tractive unit.
At about 10.30pm on Thursday, August 29, a woman of 25 sustained fatal injuries in Possil Road, Glasgow when the nearside rear pair of wheels on a threeyear-old 482 Transcontinental tractive unit operated by Glasgow District Council broke away front its axle and mounted the kerb.
The tractive unit, which was pulling an empty platform semi-trailer at the time of the accident, is now back with its owner but the wheels are still in the laboratory at Strathclyde Police headquarters, where a report is being prepared for the Procurator Department of Transport examiners have seen the vehicle and the wheels.
By coincidence, John Dick son-Simpson, editor of the IRTE monthly journal, Transport Engineer, and the man who has been most active in drawing attention to the scale of the wheel fixing failure problem in the UK, was speaking to the South London Centre of the IRTE on the subject of wheels this week.
He told CM that later in the week he would be urging the IRTE national council to underwrite the research fund established by the institute to take it to £30,000 so that the next stage of research could begin without further delay.
Contributions from many different operators and other transport organisations have taken the fund to just short of 00,000 since it was launched last year.
The Department of Trade and Industry has indicated that if the fund reaches £30,000 it will provide an equal amount.
It has been estimated that about £70,000 will be needed to finance the sort of detailed strain gauge testing at the Motor Industry Research As
sociation (MIRA) which, it is hoped, can provide possible solutions to the problem.
About £3,000 has been spent so far by the IRTE on two initial parallel research programmes by MIRA and Exeter University. The results of these were reported earlier this year at the IRTE conference (CM, May 25).
One of the conclusions reached at Exeter is that the problem is "essentially one of low cycle fatigue failures". Don Wright of MIRA said at the conference that the current designs of commercial vehicle wheel were "outmoded".
The Department of Transport continues to refuse to provide any financial support for the wheels research fund, arguing that the problem is not large enough to justify its involvement,
A I/I-p spokesman told CM this week that the Department's position was unchanged. Its resources for funding research of any kind were limited and so priorities had to be decided upon.