Mercedes-Benz breaks through the 400hp barrier
14th September 1985
Page 20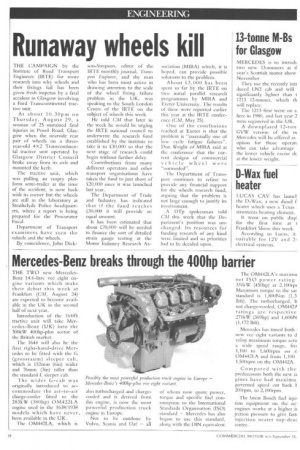 Page 20, 14th September 1985 —
Mercedes-Benz breaks through the 400hp barrier
Close
THE TWO new MercedesBenz 14.6-litre vee eight engine variants which make their debut this week at Frankfurt (CM, August 24) are expected to become available in the UK in the second half of next year.
Introduction of' the 1644S tractive unit will take Mercedes-Benz (UK) into the 300kW 400hp-plus sector of the British market.
The 1644 will also be the first right-hand-drive Mercedes to be fitted with the G (grossraum) sleeper cab, which is 152mm (6in) wider and 76nam (3in) taller than the standard L sleeper cab.
The wider G-cab was originally introduced to accomtnodate the air-to-air charge-cooler fitted to the 283kW (380hp) 0M422LA engine used in the 1638/1938 models which have never, been available in the UK.
The 0M442LA, which is also turbocharged and chargecooled and is derived from this engine, is now the most powerful production truck engine in Europe.
Not to be outdone by Volvo, Scania and Daf — all of whom now quote power, torque and specific fuel consumption to the International Standards Organisation (ISO) standard — Mercedes has also begun to use this standard, along with the DIN equivalent. The 0M442LA's maximu net ISO power rating 331kW (450hp) at 2,100rpt Maximum torque to the sar standard is 1,800Nm (1,3 lbft). The turbocharged, b not charge-cooled, 0M442P ratings are respective 271kW (369hp) and 1,606N (1,172 lbft).
Mercedes has tuned both : new vce eight variants to d velop maximum torque acro a wide speed range, fro 1,100 to 1.600rpm on tl 0M442LA and from 1,100 1,500rpm on the 0M442A.
Compared with the predecessors both the new et gines have had maximu: governed speed cut back I 200rpm, to 2,100rpm.
The latest Bosch fuel inje, tion equipment on the ne engines works at a higher ii jection pressure to give fast! injection nearer top-deac centre.