;afety plan offends
14th September 1985
Page 17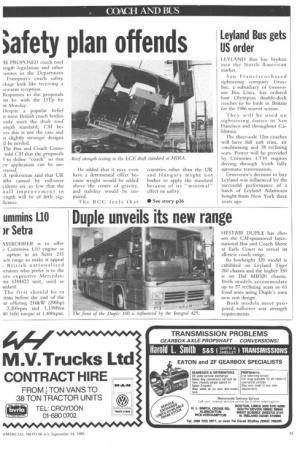 Page 17, 14th September 1985 —
;afety plan offends
Close
1E. PROPOSED coach roof ength legislation and other :asures in the Department Transport's coach safety elcage look like receiving a cewarin reception.
Responses to the proposals ist be with the DTp by xt Monday.
1)espite a popular belief it most British coach bodies eady meet the draft roof ength standard, CM beyes this is not the case and it slightly stronger designs 11 be needed.
The Bus and Coach Coontold CM that the proposals 1 to define "coach" so that L-ir application can be unrstood.
A spokesman said that UK aths caused by roll-over cidents are so few that the nail improvement in -ength will be of little sigFicance,
He added that it may even have a detrimental effect because weight would be added above the centre of gravity, and stability would be impaired, countries other than the UK and Hungary might not bother to apply the standard because of its "minimal" effect on safety.