125 delay bill moun
14th September 1985
Page 15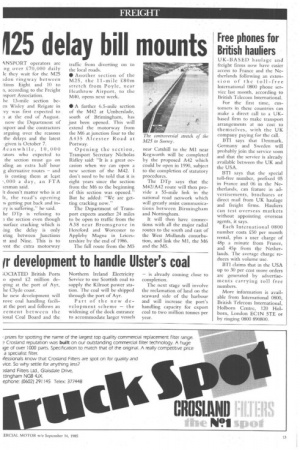 Page 15, 14th September 1985 —
125 delay bill moun
Close
''NSPORT operators are ng over £.70,000 daily le they wait for the M25 idon ringway between lions Eight and 10 to n, according to the Freight nsport Association.
he 13-mile section been Wisley and Reigate in 7ey was first expected to a at the end of August. now the Department of .sport and the contractors arguing over the reasons the delays and the latest given is October 7.
/leanwhile, 10,000 :itors who expected to the section must go on 'ding an extra half hour g alternative routes — and is costing them at least ,,000 a day, an PTA cesman said.
It doesn't matter who is at It, the road's opening )s getting put back and in:ry is suffering," he said. he DTp is refusing to a the section even though surface cracking which is .ing the delay is only tring between Junctions at and Nine. This is to rent the extra motorway traffic from diverting on to the local roads.
• Another section of the M25, the 11-mile .£80m stretch from Poyle, near Heathrow Airport, to the M40, opens next week.
• A further 6.5-mile section of the M42 at Umberslade, south of Brimingham, has just been opened. This will extend the motorway from the M6 at junction four to the A435 Alcester Road at Portway.
Opening the section, Transport Secretary Nicholas Ridley said: "It is a great occasion when we can open a new section of the M42. I don't need to he told that it is eight years since the section from the M6 to the beginning of this section was opened." But he added: "We are getting cracking now."
The Department of Transport expects another 24 miles to be open to traffic from the A38 near Bromsgrove in Hereford and Worcester to Appleby Magna in Leicestershire by the end of 1986.
The full route from the M5 near Catshill to the M1 near Kegworth will be completed by the proposed A42 which could be open in 1990, subject to the completion of statutory procedures.
The DTp says that the M42/A42 route will then provide a 55-mile link in the national road network which will greatly assist communications between Birmingham and Nottingham.
It will then have connections with all the major radial routes to the south and cast of the West Midlands conurbation, and link the Ml, the M6 and the M5.