Plating certificate hidden by driver
14th September 1985
Page 14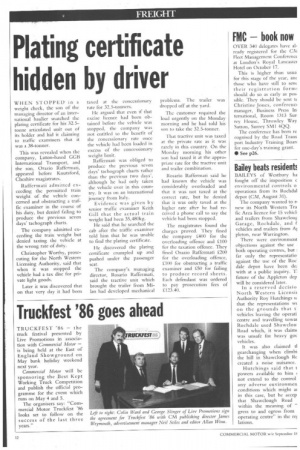 Page 14, 14th September 1985 —
Plating certificate hidden by driver
Close
WHEN STOPPEDin a weight check, the son of the managing director of an international haulier snatched the plating certificate for his 32.5tonne articulated unit out of its holder and hid it claiming to traffic examiners that it was a 38-tonner.
This was revealed when the company, Luton-based GGB International Transport, and the son, Orazio Raffernaati, appeared before Knutsford, Cheshire magistrates.
Raffermati admitted exceeding the permitted train weight of the vehicle concerned and obstructing a traffic examiner in the course of his duty, but denied failing to produce the previous seven days' tachograph charts, The company admitted exceeding the train weight but denied taxing the vehicle at the wrong rate of duty.
Christopher Worthy, prosecuting for the North Western Licensing Authority, said that when it was stopped the vehicle had a tax disc for private light goods.
Later it was discovered that on that very day it had been taxed at the concessionary rate for 32.5-tonners.
He argued that even if that excise licence had been obtained before the vehicle was stopped, the company was not entitled to the benefit of the concessionary rate once the vehicle had been loaded in excess of the concessionary weight limit.
Raffermati was obliged to produce the previous seven days' tachograph charts rather than the previous two days', although he had only taken the vehicle over in this country. It was on an international journey from Italy.
Evidence was given by senior traffic examiner Keith Gill that the actual train weight had been 35,480kg.
He said that he searched the cab after the traffic examiner told him that he was unable to find the plating certificate.
He discovered the plating certificate crumpled up and pushed under the passenger seat.
The company's managing director, Rosario Raffermati, said the tractive unit which brought the trailer from Milan had developed mechanical problems. The trailer was dropped off at the yard.
The customer required the load urgently on the Monday morning and he had told his son to take the 32.5-tonner.
That tractive unit was taxed at the private rate as it was rarely in this country. On the Monday morning hi S other son had taxed it at the appropriate rate for the tractive unit and trailer combination.
Rosario Rafferrnati said he had known the vehicle was considerably overloaded and that it was not taxed at the correct rate, but he denied that it was only taxed at the higher rate after he had received a phone call to say the vehicle had been stopped.
The magistrates found the charges proved. They fined the company £400 for the overloading offence and £100 for the taxation offence. They fined Orazio Raffermati £200 for the overloading offence, £100 for obstructing a traffic examiner and £50 for failing to produce record sheets. Each defendant was ordered to pay prosecution fees of £123.40.