Bailey beats resident
14th September 1985
Page 14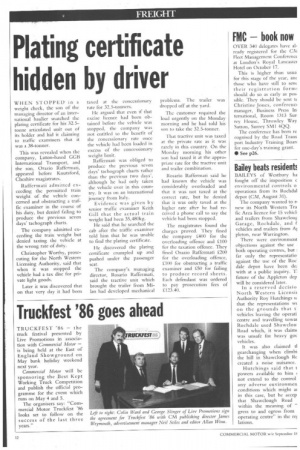 Page 14, 14th September 1985 —
Bailey beats resident
Close
BAILEYS of Westbury ha fought off the imposition c environmental controls o operations from its Rochdal depot (CM, August 31).
The company wanted to n new its North Western Tra fic Area licence for 15 vehiel. and trailers from Shawcloug Garage, Rochdale, and ( vehicles and trailers from A1 pleton, near Warrington.
There were environment objections against the use • both operating centres, but : far only the representatioagainst the use of the Roc: dale depot have been de with at a public inquiry. T1 future of the Appleton dep will be considered later.
In a reserved decisio North Western Licensit Authority Roy Hutchings that the representations we on the grounds that t. vehicles leaving the operati centre and travelling towat Rochdale used Shawclou Road which, it Was claims was unsafe for heavy goc vehicles.
It was also claimed tl gearchanging when climbi the hill in Shawclough Re created a noise nuisance.
Hutchings said that t powers available to him I not extend to the control any adverse environmen conditions which might at in this case, but he accep that Shawclough Road within the meaning of " gress to and egress from operating centre" in the re lations.