The New Jackson Parcelcar.
14th November 1912
Page 5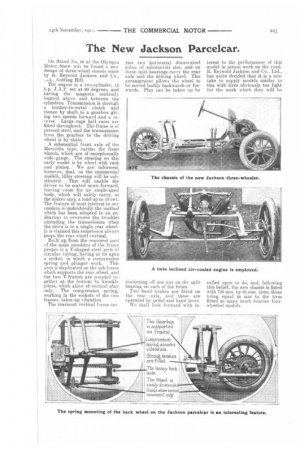 Page 5, 14th November 1912 —
The New Jackson Parcelcar.
Close
On Stand No. i at the Olympia Motor Snow yiili be found a new design of three-wheel chassis made by it. _Reynold Jackson and Co., ,..d., Notting Hill.
The engine is a two-cylinder, 12
J.A..e, set at 90 degrees, and having the magneto centrally located above and between the cylinders. Transmission is through a leather-to-metal clutch and thence by shaft to a gearbox giving two speeds forward and a reverse. Large cage ball races are fitted throughout. The frame is of pressed steel, and the transmission from the gearbox to the driving wheel is by chain.
A substantial front axle of the Mercedes type, carries the front wheels, which are of exceptionally wide gauge. The steering on this early model is by wheel with rack and pinion. We are informed, however, that, on the commercial models, tiller steering will be substituted. This will enable the driver to be seated more forward, leaving room for an ample-sized body, which will safely carry, so the maker says, a load up to 10 cwt. The feature of most interest to our readers is undoubtedly the method which has been adopted in an endeavour to overcome the troubles attending the transmission when the drive is to a single rear wheel. It is claimed this suspension always keeps the rear wheel vertical, Built up from the rearmost part of the main members of the frame proper is a V-shaped steel arch of circular tubing, having at its apex a socket, in which a compression spring and plunger work. This arch is duplicated on the sub-frame which supports the rear wheel, and the two V-frames are coupled together at the bottom by knuckle joints, which allow of vertical play only. The compression spring, working in the sockets of the two frames, takes up vibration.
The rearmost vertical frame car
ries two horizontal drawn-steel tubes of substantial size, and on these split bearings carry the rear axle and the driving wheel. This arrangement allows the wheel to be moved bodily backwards or forwards. Play can be taken lip by
slackening oil one nut on the split bearing on each of the tubes.
Two band brakes are fitted on the rear axle, and these are operated by pedal and hand lever.
We shall look forward with in
terest to the performance of this model in actual work on the road. R. Reynold Jackson and Co., ad., has quite decided that it is a mistake to supply models similar to this with tires obviously too light for the work which they will be
called upon to do, and, following this belief, the new chassis is fitted with 700 mm. by 85 mm. tires, these being equal in size to the tires fitted to many much heavier fourwheeled models.