Ways to Save Renewals.
14th November 1912
Page 19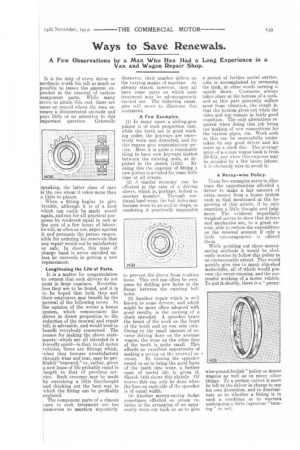 Page 19, 14th November 1912 —
Ways to Save Renewals.
Close
A Few Observations by a Man Who Has Had a Long Experience in a Van and Wagon Repair Shop.
It is the duty of every driver or 'mechanic worth his salt as much as Oossible to lessen the amount expended in the renewal of various pomponent parts. While many Strive to attain this end, there are eases on record where the man assumes a. disinterested attitude and bays little or no attention to this important question. Generally
Ispeaking, the latter class of ma 1 is the one whom it takes more tha i a little to please. When a fitting begins to give trouble, although it is of a kind Which can easily be made sound again, and can for all practical purposes be rendered equal to new at the cost of a few hours of labour, lie will, as often as not, argue against it and persuade the person responsible for ordering his renewals that any repair would not be satisfactory or safe. In short, this class of charge hand is never satisfied un less he succeeds in getting a new replacement.
Lengthening the Life of Parts.
1 It is a matter for congratulation to owners that such drivers do not exist in large numbers. Nevertheless they are to be found, and it is to be hoped that both they and their employers may benefit by the perusal of the following not es. In the opinion of the writer a bonus system, which remunerates the
'ver in direct proportion to the reduction of the renewal and repair bill, is advisable, and would tend to benefit everybody concerned. The reason for making the above state in.
ments—which are all intended in a, friendly spirit—is that, in all motor vehicles, there are fittings which, when they become unsatisfactory through wear and tear, may be profitably "renewed," or, rather, given a new lease of life probably equal in length to that of previous service, Such economy may be made lay exercising a little forethought and thinking out the best way in which the fitting can be profitably r
enlaced.
The component parts of a chassis open to such treatment are too numerous to mention separately. ivforeover, their number differs on the varying makes of machine. As already stated, however, they all have some parts on which such treatment may be advantageout%ly carried out. The following examples will serve to illustrate this statement.
A Few Examples.
(1) in many eases a sliding-gear pinion is of such proportion that, while the teeth are in good working order, the keyways are excessively worn and distorted, and for this reason give unsatisfactory service. Here it is quite a reasonable thing to have new keyways slotted between the existing ones, as de picted in the sketch (1431). By doing this the expense of fitting a new pinion is avoided for some little time at all events.
(2) A similar economy can he effected in the case of a driving sleeve, which is, perhaps, bolted to another member. Through continual hard wear, the bolt holes may become worn to an oval in shape, so rendering it practically impossible to prevent the sleeve from working loose. This evil can often be overcome by drilling new holes in the flange between the existing bolt, holes.
(3) Another repair which is well known to some drivers, and which might be more often adopted with good results, is the turning of a chain sprocket. A sprocket bears the brunt of the work on the front of the teeth and on one side only. Owing to the small amount of reverse driving done on the average wagon, the wear on the other face of the teeth is quite small. This affords an excellent opportunity of making a saving on the renewal ac count. By turning the sprocket round so as to bring the good faces of the teeth into wear, a further span of useful life is given it. Sketch 1430 shows this plainly. Of course this can only be done when the boss on each side of the sprocket is of equal width. (41 Another money-saving dodge sometimes effected on steam vehicles is the arranging of an apparently worn-out tank so as to give a period of further useful service. Ails is accomplished by reversing the tank, in other words turning it upside down. Corrosion always takes place at the bottom of a tank, and as this part generally suffers most from vibration, the result is, that the bottom gives out while the sides and top remain in fairly good condition. The only alterations required when doing this job being tne making of new connections for the various pipes, etc. Work such as this can be successfully undertaken by any good driver and his mate on a slack day. The average price of a st,earn wagon tank is from and when this expense may be avoided by a few hours labour. it is obviously wise to avoid it.
A Penny-wise Policy.
Those few examples serve to illustrate the opportunities afforded a driver to make a fair amount of extra money from a bonus system such as that mentioned at the beginning of this article, if he only exercises a little thought and judgment. The evidence impartially weighed serves to show that drivers and mechanics are, to a great extent, able to reduce the expenditure on the renewal account if only a little encouragement is offered them.
While pointing out these moneysaving methods it would be obviously unwise to follow this policy to an unreasonable extent. This would quickly give rise to many slip-shod makeshifts, all of which would prevent the sweet running, and the successful working of a motor vehicle. To put it shortly, there is a " penny wise-pound-foolish" policy on motor wagons as well as on many other things. To a certain extent it must be left to the driver in charge to use his own discretion, and to discriminate as to whether a fitting is in such a condition as to warrant undergoing a little ingenious "turning" or not.