Answers to Queries.
14th November 1912
Page 18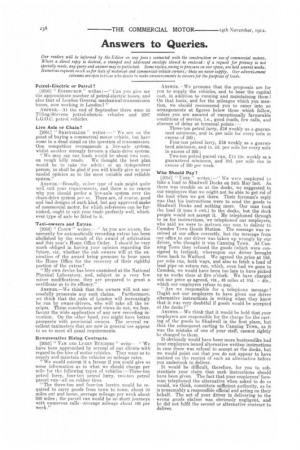 Page 18, 14th November 1912 —
Answers to Queries.
Close
Our readers will be informed by the Editor on any Pain's connected with the construction or use of commercial motors. Where a direct reply is desired, a stamped and addressed envelope should be enclosed : if a request for privacy is not specially made, any query and answer may be published. Some replies, owing to pressure on our space, are held several weeks. Numerous requests reach us for lists of motorcab and commercial-vehicle owners ;. these we never supply. Our advertisement
columns are open to thise who desire to make announcements to owners for the purposes of trade.
Petrol-Electric or Petrol?
[2050_1 " EDINBURGH " writes :—" Can you give me the approximate number of petrol-electric buses, and also that of London General mechanical-transmission buses, now working in London?"
ANSWER.—At the end of September there were 55 Tiiling-Stevens petrol-electric vehicles and 2087 L.G.O.C. petrol vehicles.
Live Axle or Chain?
[2051] " SHEIFIELDER " writes We are on the point of buying a commercial motor vehicle, but have come to a dead stand on the question of transmission. One competitor recommends a live-axle system, whilst another strongly favours a chain-drive system.
"We may say our loads would be about two tons, on rough hilly roads. 'We thought the best plan would be to take the advic.s ot an independent person, so shall be glad if you will kindly give us your candid opinion as to the most suitable and reliable system."
ANSWER.—Broadly, either type of axle might quite well suit your requirements, and there is no reason why you should prefer a live-axle system over the ehain-drive system per re. There are, of course, good and had designs of each kind, but any approved make of commercial motor, for which references can be furnished, ought to suit, your trade perfectly well, whichever type of axle be fitted to it.
Taxi-owners and Extras.
[2052] " Ceoez " writes :" As you are aware, the necessity for automatically recording extras has been abolished by the result of the award of arbitration and this year's Home Office Order. I should be very much obliged in haviug your opinion regarding the future, viz., whether the cab owners will at. the expiration of the award bring pressure to bear upon the Home Office for the recovery of their rightful portion of the extras? "My own device has been examined at the National Physical Laboratory, and, subject to a very few minor modifications, they are prepared to grant a certificate as to its efficacy."
ANSWER.—We think that the owners will not successfully prosecute any such claims. Furthermore, we think that the cabs of London will increasingly be run by owner-drivers, who will take all the receipts. These conclusions and views do not, we fear, favour the wide application of any new recording invention. On the other hand, you might have better prospects with provincial owners. The several excellent taximeters that are now in general use appear to us to meet all nsual requirements.
nemunerativz Hiring Contracts.
[2053] "VAN AND LIIRRY BUILDERS " write :." We have been approached by several of our clients, with regard to the hire of motor vehicles. They want us to supply and maintain the vehicles on mileage rates.
"We would esteem it a favour if you could give us some information as to what we should charge per mile for the following types of vehicles : —Three-ton petrol lurry, four ton petrol lurry, two-ton petrol parcel van—all on rubber tires. "The three-ton and four-ton lurries would be required to carry goods from town to town, about *.a) miles out and home, average mileage per week about BOO miles ; the parcel van would be on short journeys with numerous calls--average mileage about 100 per week."
ANSWER.— We presume that the proposals are for you to supply the vehicles, and to bear the capital cost, in addition to running and maintaining them ? On that basis, and for the mileages which you mention, we should recommend you to enter into no arrangements at figures below those which follow, unless you are assured of exceptionally favourable conditions of service, i.e., good roads, few calls, and absence of delay at terminal points :—
Three-ton petrol lurry, 216 weekly as a guaranteed minimum, and Is. per mile for every mile in excess of 200;
Four-ton petrol lurry, £19 weekly as a guaranteed minimum, and Is. `2c1. per mile for every mile in excess of 300; Two-ton petrol parcel van, L11 10s. weekly mg.& guaranteed minimum, and 10d. per mile run m excess of 360 per week.
Who Should Pay?
[2054] " Usen " writes :—" We were emploYed to take a load to Shadwell Docks on 24th May last. As there was trouble on at the docks, we suggested to our employers that we might not be able to get rid a the load when we got there. Their foreman's reply was that his instructions were to send the goods to Shadwell Docks and nothing more. Our man took the load (2 tons 5 cwt.) to the docks, but the dock people would not accept it. He telephoned through to us for instructions, we telephoned our employers, who said we were to instruct our man to deliver to Camden Town Goods Station. The message was received at our office correctly, but the message from our office to our driver was taken up wrongly by our driver, who thought it was Canning Town. At Canning Town they refused the goods (which were consigned to Ireland), whereupon our driver brought them back to Watford. We agreed the price at 10d. per mile run, both ways, and also to fetch a load of lead pipe on return run, which, even had we gone to Camden, we would have been too late to have picked up as works close at five o'clock. We have charged out our price as agreed, viz., 48 miles at 10d. = 40s., which our employers refuse to pay.
"Are we responsible for a telephone message ? Ought not our employers to have given our driver alternative instructions in writing when they knew that it was very doubtful if goods would be accepted at the docks ?"
ANSWER. —We think that it would be held that your employers are responsible for the charge for the carting of the goods to Shadwell in the first place, but that the subsequent carting to Canning Town, as it was the mistake of one of your staff, cannot rightly be charged to them.
It obviously would have been more businesslike had your employers issued alternative written instructions in case there was refusal to accept at the docks, but we would point out that you do not appear to have insisted on the receipt of such an alternative before you undertook to deliver.
It would be difficult, therefore, for you to substantiate your claim that such instructions should have been given. The fact that your employers' foreman telephoned the alternative when asked to do so would, we think, constitute sufficient authority, as he is presumably a responsible official and acting on their behalf. The act of your driver in delivering to the wrong goods station was obviously negligent, and he did not fulfil the second or alternative contract to deliver.