The Carlton All-fuel Carburetter.
14th November 1912
Page 17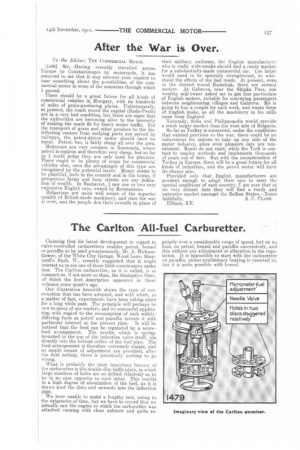 Page 17, 14th November 1912 —
The Carlton All-fuel Carburetter.
Close
Claiming that his latest development in regard to valve-controlled carburetters enables petrol, benzol or paraffin to be used promiscuously, Mr. A. HicksonGower, of the White City Garage, Wood Lane, Shepherd's Bush, W., recently suggested that it might interest us to see one of these little contrivances under test. The Carlton carburetter, as it is called, is as compact as, if not more so than, the diminutive Thirr, of which the first description appeared in these columns some months ago.
Our illustration herewith shows the type of construction that has been adopted, and with which, as a matter of fact, experiments have been taking place for a long while past. The principle will perhaps be new to many of our readers, and its successful application with regard to the consumption of such widelydiffering fuels as petrol and paraffin invests it with particular interest at the present time. It will be noticed that the feed can be regulated by a screwfeed arrangement. The needle, which is springmounted in the top of the induction valve itself, site directly into the bottom orifice of the fuel pipe. The feed arrangement is therefore extremely simple, and as ample means of adjustment are provided, after the first setting, there is practically nothing to go wrong.
What is probably the most important feature of the carburetter is the double-disc baffle plate, in which large numbers of holes are so drilled relatively as to be in no case opposite toeach other. This results in a high degree of atomization of the fuel, as it is drawn past the discs and onwards into the induction pipe.
We were unable to make a lengthy test, owing to the exigencies of time, but we have to record that we actually saw the engine to which the carburetter was attached running with clean exhaust and quite re
gularly over a considerable range of speed, but on no load, on petrol, benzol and paraffin successively, and this without any adjustment or alteration in the regulation. It is impossible to start with the carburetter on paraffin, unless preliminary heating is resorted to, but it is quite possible with benzol.