After the War is Over.
14th November 1912
Page 17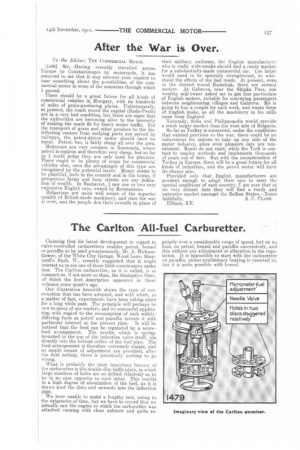 Page 17, 14th November 1912 —
After the War is Over.
Close
To the Editor, THE COMMERCIAL MOTOR.
[1108] Sir,--Having recently travelled across Europe to Constantinople by motorcycle, it has occurred to me that it may interest your readers to hear something about the possibilities of the commercial motor in some of the countries through which 1 passed.
There should be a great future for all kinds of commercial vehicles in Hungary, with its hundreds of miles of grain-producing plains. Unfortunately, at present, the roads round the capital (Buda-Pesth) are in a very bad condition, but there are signs that the authorities are becoming alive to the necessity of making the roads fit for heavy motor traffic. For the transport of gram and other produce to the distributing centres from outlying parts not served by railways, the petrol-driven motor should have no equal. Petrol, too, is fairly cheap all over the area. Motorcars are very common in Roumania, where petrol is copious and therefore very cheap, but so far as I could judge they are only used for pleasure. There ought to be plenty of scope for commercial vehicles also, once the advantages of this type are recognized by the potential buyer. Money seems to be plentiful, both in the country and in the towns, if prosperous farms and busy streets are any indication of wealth. In Bucharest, I saw one or two very expensive English cars, owned by Roumanians. Bulgarians are quite well aware of the superior quality of British-made machinery, and once the war is over, and the people don their overalls in place of their military uniforms, the English manufacturer who is really wide-awake should find a ready market for a. substantially-made commercial car. The latter would need to be specially strengthened, to with
stand the effects of the bad roads. At present, even
in the district round .Rustchuk, there are several motorsAt Gabrova, near the Shipka Pass, one wealthy mill-owner asked me to get him particulars of English motors, suitable for conveying passengers between neighbouring villages and Gabrova. He is going to buy a couple for such work, and wants them of English make, as all the machinery in his mills came from England. Naturally, Sofia and Philippopolis would provide a much larger market than the weet side of Bulgaria.
So far as Turkey is concerned, under the conditions that existed previous to the war, there could be no
inducement for anyone to take up any side of the motor industry, since even pleasure cars are nonexistent. Roads do not exist, while the Turk is con tent to employ methods and implements thousands of years out of date. But with the reconstruction of Turkey in Europe, there will be a great future for all kinds of industries, and the petrol motor will have its chance also. Provided only that English manufacturers are prudent enough to adapt their cars to meet the
special conditions of each country, I am sure that at no very distant date they will find a ready and extensive market amongst the Balkan States.—Yours faithfully, A. C. CLARK. Eltham, S.E.