A Motor Road Sweeper in Glasgow.
14th November 1912
Page 15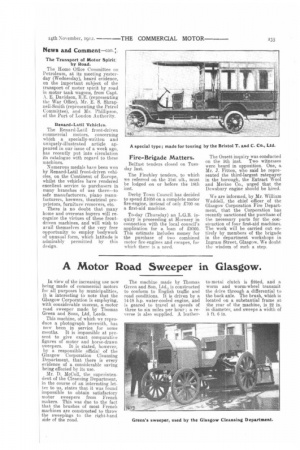 Page 15, 14th November 1912 —
A Motor Road Sweeper in Glasgow.
Close
In view of the increasing use now being made of commercial motors for all purposes by municipalities, it is interesting to note that the Glasgow Corporation is employing, with considerable success, a motor road sweeper made by Thomas Green and Sons, Ltd, Leeds.
This machine, of which we reproduce a photograph herewith, has now been in service for some months. It is impossible at present to give exact comparative figures of motor and horse-drawn sweepers. It is stated, however, by a responsible official of the Glasgow Corporation Cleansing Department, that there is every evidence of a considerable saving being effected by its use.
Mr. D. McColl, the superintendent of the Cleansing Department, in the course of an interesting letter to us, states that it was found impossible to obtain satisfactory motor sweepers from French makers. This was due to the fact that the brushes of most French machines are constructed to throw the sweepings to the right-hand side of the road.
The machine made by Thomas Green and Son, Ltd., is constructed to conformto English traffic and road conditions. It is driven by a 14-18 h.p. water-cooled engine, and is geared to travel at speeds of three to six miles per hour ; a reverse is also supplied. A leather to-metal clutch is fitted, and a worm and worm-wheel transmit the drive through a differential to the back axle. The brush, which is located on a substantial frame at the rear of the machine, is 22 in. in diameter, and sweeps a width of 3 ft. 6 in.