One Hears— A bumpy road described as shocking.
14th November 1912
Page 13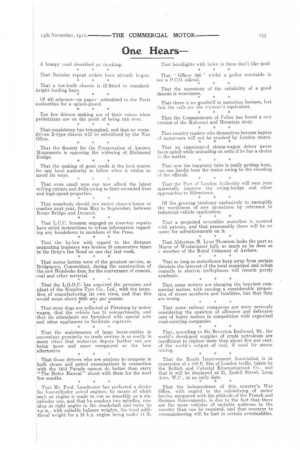 Page 13, 14th November 1912 —
One Hears— A bumpy road described as shocking.
Close
That Daimler repeat orders have already begun.
That a low-built chassis is ill-fitted to standardheight loading bays.
Of 400 schemes—on paper --submitted to the Paris authorities for a splash-guard.
Too few drivers making use of their voices when pedestrians are on the point of being run over.
That consistency has triumphed, and that no wormdriven B-type chassis will be subsidized by the War Office.
That the Society for the Preservation of Ancient Monuments is opposing the widening of Richmond Bridge.
That the making of good roads is the best, course for any local authority to follow when it wishes to mend its ways.
That even small men can now afford the latest milling cutters and drills owing to their extended lives and high-speed properties.
That somebody should run motor chars-à-banes or coaches next year, from May to September, between Bonar Bridge and Dornoch.
That L.C.C. foremen engaged on tramway repairs have strict instructions to refuse information regarding any breakdown to members of the Press.
That the by-law with regard to the distance separating tramcars was broken 25 consecutive times in the Gray's Inn Road on one day last week.
That motor lorries were of the greatest service, at Bridgeport, Connecticut, during the construction of the new Hemlocks dam, for the conveyance of cement, coal and other material.
That the L.G.O.C. has acquired the premises and plant of the Simplex Tyre Co., Ltd., with the intention of manufacturing its own tires, and that this would mean about 9000 sets per annum.
That stray dogs are collected at Pittsburg by motor wagon, that the vehicle has 24 compartments, and that its attendants are furnished with special nets and other appliances to facilitate captures.
That the maintenance of large horse-stables in convenient proximity to trade centres is so costly in many cities that motorvan depots farther out are being more and more recognized as the best alternative.
That those drivers who are anxious to compete in both steam and petrol examinations in connection with the 1913 Parade cannot do better than carry "The Motor Manual " about with them for the next few months.
That Mr. Fred. Lanchester has perfected a device for four-cylinder petrol engines, by means of which such an engine is made to run as smoothly as a sixcylinder one, and that he employs two spindles, running at right angles to the crankshaft and twice its r.p.m., with suitable balance weights, the total additional weight for a 25 h.p. engine being under 1.1 lb. That headlights with holes in them don't like mud.
That " Officer " whilst a police constable is not a P.0.0.
That the monotony of the reliability of a good chassis is wearisome.
That there is no goodwill in motorbus licences, but that the rails are the tramcar's equivalent.
That the Commissioner of Police has found a new version of the Mahomet and Mountain story.
That country traders who themselves become buyers of nnotorvans will not be crushed by London stores.
That an experienced steam-wagon driver never faces uphill while unloading on setts if he has a choice in the matter.
That now the tuppenny tube is really getting busy, one can hardly hear the trains owing to the shouting of the officials.
That the Port of London Authority will next year materially improve the swing-bridge and other approaches to Silvertown.
Of the growing tendency exclusively to exemplify the worthiness of new inventions by reference to industrial-vehicle application.
That a projected reversible motorbus is covered ith patents, and that presumably there will be no space for advertisements on it.
That Alderman H. Lyon Thomson looks the part as Mayor of Westminster fully as much as he does as a member of the Royal Company of Archers. *• That so long as motorbuses keep away from certain districts the interest of the local municipal and urban councils in electric trolleybuses will remain purely academic.
That some writers are charging the heaviest commercial motors with causing a considerable proportion of street accidents and fatalities, but that they are wrong.
That some railway companies are more seriously considering the question of offensive and defensive uses of heavy motors in competition with organized road-carrying companies.
That., according to Sir Boverton Redwood, Bt., the world's developed supplies of crude petroleum are insufficient to replace more than about five per cent. of the world's output of coal, if used for steam raising.
Thatthe Roads Improvement Association is in possession of a 500 ft. film of London traffic, taken by the British and Colonial Kinematograoh Co., and that it will be displayed at 33, Endell Street. Long Acre, W.C., at an early date.
That the independence of this country's War Office, with regard to the subsidizing of motor lorries, compared with the attitude of the French and German Governments, is due to the fact that there are far more vehicles of suitable patterns in the country than can be required, and that recourse to commandeering will be had in certain eventualities.