OUT AND HOME.
14th March 1918
Page 20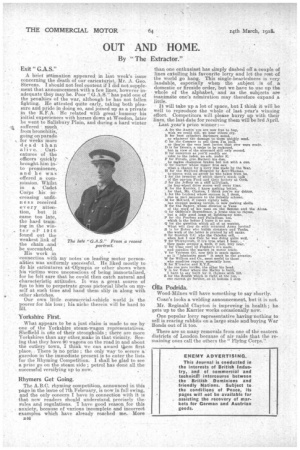 Page 20, 14th March 1918 —
OUT AND HOME.
Close
By "The Extractor."
Exit "G.A.S."
it suffered much • in the R.F.A. He related with great humour his ,ment that announcement with a few lines, however infrom bronchitis,' adequate they may be. Poor" G.A.S." has paid one of fighting. He attested quite early, taking both pleainitial experiences with horses down at Weedon, later he went to Salisbury Plain, and during a hard winter concerning the death of our caricaturist, Mr. A. Geo. sure and pride in doing so, and joined up as a private Stevens. I should not feel content if I did not supplethe penalties of the war, although he has not fallen
A briet intimation appeared in last week's issue going on parade
• for -weeks mare -dead than alive..Caricatures of the officers quickly brought him into prominence, and he Was offered at commission. Whilst in a Cadet Corps his in-creasing unfitness received ever y attention, but it Came too late, the hard training in the winter of' 1 9 1 6 found out the weakest link of The late "G.A.S." From a recent the chain . and ' portrait.
be succumbed.
His work in connection with my notes on leading motor personalities was uniformly successful. He liked mostly to do his caricatures at 'Olympia or other shows when his victims were unconscious of being immortalized, for he felt sure that he could then catch natural and characteristi9 attitudes. It was a great source of fan to him to perpetrate gross pictorial libels on myself at such time and hand them slily in along with other sketches.
Our own little commercial-vehicle world is the poorer for his loss ; his niche therein will be hard to fill.
Yorkshire First.
• What appears to be a just claim is made to me by one of the Yorkshire steam-wagon representatives. Sheffield is one of their strongholds ; there are more Yorkshires than any otheamake in that vicinity. Seeing that they have 90 wagons on the road in and about the cutlery town, I think we can award tjem first place. There is no prize ; the only way to secure a ' guerdon in the immediate present is to enter the lists for the Rhyming Competition. I shall be glad to see a prize go on the steam side ; petrol has done all the successful versifying up to now.
Rhymers Get Going.
The A.B.C. rhyming competition, announced in this page in the issue of 7th February, is now in full swing, and the only concern I have in connection with it is that new readers should understand, precisely the rules and regulations. :I have good reason for this anxiety, because of various incomplete and incorrect examples which have already reached me. More M6 than one enthusiast has simply dashed off a couple of lines extolling his favourite lorry and let the rest of the world go hang. This single-heartedness is very laudable, especially when the subject . is of, a domestic or fireside order, but we have to use up the whole of the alphabet, and as the subjects are inanimdte one's admiration may therefore expand a little.
It -will take up a lot of space, but I think it will be well to reproduce the whale of last year's winning effort. Competitora will please hurry up with their lines, the het date for receiving them will be 3rd April.
Last year's prize winner :—
A for the Austin you are now free to buy, -wish we could sell, we hear others cry.
B for host cylinders Bartmars mend, so whatever the damage to them quiddy send. C for the Comaner to sell them I'm paid, so they're the very best lorries that ever were made. D is for Dennis. a make to be reckoned, bat in view of the aforesaid still only second.
E for exception as you'll reedit), see refer to the index, no ads. under E.
F for Ferodo. give Herbert his due, he makes Champion brakes but not with a cue.
G for Carper whose maker first saw what a chance for g lorry was made by the War. II for the Hanford designed by Kerr-Thomas, to pierce with an arrow he was taken from us. I for, the invasion of which there's much talk of the one-ton Ford and their factory at Cork.
▪ for the Jeffery on a stiff hill:climb, its lour-wheel drive scores well every time. K for the Karrier, I know nothing better, for that, Mr. Clayton, I think you re my debtor.
L for the Leyland whose success is, I deem, due in part measure to the Subsidy scheme.
M for Me.Curd, if report rightly tells, has stopped making lorries, is now making shells. N for the Napier, whose director is Vane of the work of his vans on the Somme and the Aisne.
0 for Oldfield's Dependence, a brute this to rhyme, but a jolly good lamp at lighting-up time. • for the Peerless and Palladiun2, too,
which is the better I leave It to you. 63 for the question which all of us worries, What wilt they do with returned Army lorries? • It is for Rohe}, who builds steamers and Tanks. the work of the latter is praised by all ranks, S for Scottish C.C. who the Caledon sell, • when last I saw Cole he was doing quite well. T for Thornycroft, if It's true what I hear, they make seventy a week, if not, very near.'
U for Ubas steel by Flather's it's made, and supplies the market in motor trade. V for Vacuum Oil, now this is much easier, as it "lubricates most " it must be the greasier. W for Wille,ox and Co., most useful to those who sundries require, especially hose. X for X'tractor and X.Y.Z., . the one uses lorries, the other his head.
Y is for Yoker where the Halley is built,
I have to say built for it rhymes-with lilt.
Z for the Zenith which is right at the top one cannot go further, so at bottom I stiv.
dila Podrida.
Wood-Milnes will have something to say shortly. Coan's looks a. welding announcement, but it is not.
Mr. Reginald Claytenis improving in health ; he gets up to the Karrier works occasionally now.
One popular lorry representative having-nothing to sell is rearing rabbits on a large seaAe and buying War Bonds out of it too.
There are so many removals from one of the eastern districts of London because of air raids that the rema"ning ones call the others the " Flying Corps."