End quotas system call
14th January 1984
Page 5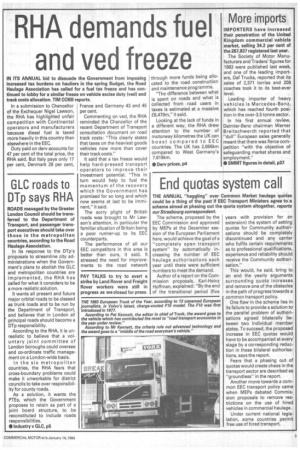 Page 5, 14th January 1984 —
End quotas system call
Close
THE ANNUAL "haggling" over Common Market haulage quotas could be a thing of the past if EEC Transport Ministers agree to a scheme aimed at phasing out the quota system altogether, reports our Strasbourg correspondent.
The scheme, proposed by the EEC Commission and approved by MEPs at the December session of the European Parliament here, would achieve the goal of a "completely open transport system" by automatically increasing the number of EEC haulage authorisations each year until there were sufficient numbers to meet the demand.
Author of a report on the Commission proposals, Karl-Heinz Hoffman, explained: "By the end of the transitional period (five years with provision for an extension) the system of setting quotas for Community authorisations should be completely discontinued and any carrier who fulfils certain requirements as to professional qualifications, experience and reliability should receive the Community authorisation."
This would, he said, bring to an end the yearly arguments surrounding quota increases and remove one of the obstacles in the path of progress towards a common transport policy.
One flaw in the scheme lies in its failure to provide a solution to the parallel problem of authorisations agreed bilaterally between two individual member states. To succeed, the proposed increase in EEC quotas would have to be accompanied at every stage by a corresponding reduction in these bilateral authorisations, says the report.
Fears that a phasing out of quotas would create chaos in the transport sector are described as "groundless" in the report.
Another move towards a common EEC transport policy came when MEPs debated Commission proposals to remove restrictions on the use of hired vehicles in commercial haulage.
Under current national legislation, some countries permit free use of hired transport.