'Soft skin' armed forces vehicles
14th January 1984
Page 47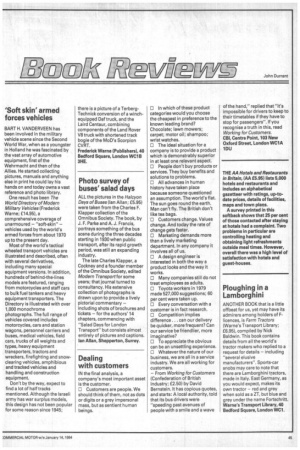 Page 47, 14th January 1984 —
'Soft skin' armed forces vehicles
Close
BART H. VANDERVEEN has been involved in the military vehicle scene since the Second World War, when as a youngster in Holland he was fascinated by the vast array of automotive equipment, first of the Wehrmacht and then of the Allies. He started collecting pictures, manuals and anything else in print he could lay his hands on and today owns a vast reference and photo library.
One result has been The World Directory of Modern Military Vehicles (Frederick Warne; f14.95), a comprehensive coverage of unarmoured — "soft-skin" — vehicles used by the world's armed forces from about 1970 up to the present day.
Most of the world's tactical wheeled transport vehicles are illustrated and described, often with several derivatives, including many special equipment versions. In addition, hundreds of behind-the-lines models are featured, ranging from motorcycles and staff cars to bulk fuel tankers and heavy equipment transporters. The Directory is illustrated with over 1,000 monochrome photographs. The full range of vehicles covered includes motorcycles, cars and station wagons, personnel carriers and buses, medical vehicles, field cars, trucks of all weights and types, heavy equipment transporters, tractors and wreckers, firefighting and snowclearing vehicles, amphibious and tracked vehicles and handling and construction equipment.
Don't by the way, expect to find a lot of half tracks mentioned. Although the Israeli army has war surplus models, this design has not been popular for some reason since 1945; there is a picture of a TerbergTechnick conversion of a winchequipped Daf truck, and the Laird Centaur, combining cornponents of the Land Rover V8 truck with shortened track bogie of the MoD's Scorpion CVRT.
Frederick Warne (Publishers), 40 Bedford Square, London WC1B 3HE.