Dealing with customers
14th January 1984
Page 47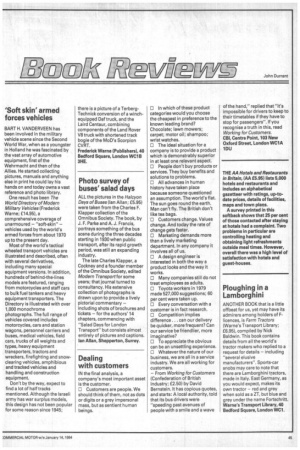 Page 47, 14th January 1984 —
Dealing with customers
Close
IN the final analysis, a company's most important asset is the customer.
0 Customers are people. We should think of them, not as dots or digits or a grey impersonal mass, but as sentient human beings. CI In which of these product categories would you choose the cheapest in preference to the known leading brand? Chocolate; lawn mowers; carpet; motor oil; shampoo; wrist watches.
CI The ideal situation for a company is to provide a product which is demonstrably superior in at least one relevant aspect.
O People don't buy products or services. They buy benefits and solutions to problems.
• All advances in human history have taken place because someone questioned an assumption. The world's flat. The sun goes round the earth. Man can't fly. The British don't like tea bags.
CI Customers change. Values change. And today the rate of change gets faster.
O Marketing demands more than a lively marketing department. In any company it involves all of us.
O A design engineer is interested in both the way a product looks and the way it works.
O Many companies still do not treat employees as adults.
O Toyota workers in 1979 made 527,000 suggestions; 60 per cent were taken up.
O Every conversation with a customer is in fact research.
O Competition implies difference .. . can our delivery be quicker, more frequent? Can our service be friendlier, more imaginative?
O To appreciate the obvious can be an unsettling experience. LI Whatever the nature of our business, we are all in a service industry, We are all working for customers.
— From Working for Customers (Confederation of British Industry; £2.50) by David Bernstein. It has copious quotes, and starts: A local authority, told that its bus drivers were "speeding past avenues of people with a smile and a wave of the hand," replied that "it's impossible for drivers to keep to their timetables if they have to stop for passengers". If you recognise a truth in this, read Working for Customers.
CBI, Centre Point, 103 New Oxford Street, London WC1A 1DU