NEW COMMERCIAL vehicle registrations last year came close to equalling
14th January 1984
Page 39
Page 40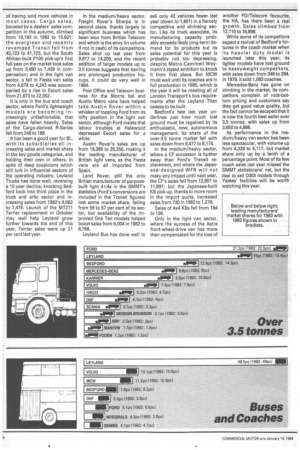 Page 41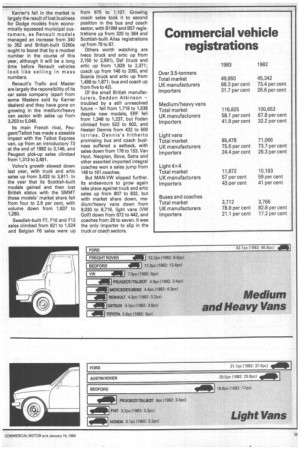 Page 39, 14th January 1984 —
NEW COMMERCIAL vehicle registrations last year came close to equalling
Close
Keywords :
Manufacturing
,
Trucks
,
Road Transport
,
Car Manufacturers
,
British Brands
,
British Leyland
,
Tata Group
,
Austin Rover Group
,
Ford Motor Company
,
Leyland Trucks
,
Iveco
,
Dodge
,
Business / Finance
those for 1980, the year that the recession began to hit sales, according to the Society of Motor Manufacturers and Traders. Its statistics show there was an overall increase of '15.9 per cent across the entire market, making a total of 267,837 vehicles. Best performance was in the light commercial categories (light, medium/ heavy, and light 4x4) which climbed by 17.7 per cent.
Even the truck and artic sector, the barometer of the fortunes of the industry, has begun to recover, and manufacturers have noted a welcome acceleration of sales in the last few months of 1983. It is largely this late burst which took the recovery further ahead than the 9.1 per cent overall increase forecast last year by the respected Economist Intelligence Unit.
But if the EIU is to be believed, this year may not be so good for manufacturers. It envisages a total market of around 266,000 vehicles, with all sectors more or less the same as last year, although it believes that British vehicles will account for 68 per cent of those sold. Last year, nearly 66 per cent were British, the lowest ever figure.
While the SMMT categories are so wide as to show greatest market penetration by those manufacturers producing the most comprehensive ranges, they are the only independent source available to us, hence our unwillingness to use individual companies' selective figures which may show a particular model being far and away market leader of a sub category devised by its manufacturer.
Broadly, the light van category covers car-derived and very small vans like the Suzuki micro; medium/heavy vans are noncar-derived vans up to 3.5 tonnes and models like one tonne pick-ups; light 4x4s exclude some non-goods models like the Range Rover; trucks and artics cover everything above 3.5 tonnes; and buses and coaches cover all purpose-built psv, but exclude minibuses and goods-based vehicles like the Leyland Cub which are included with the appropriate goods categories.
Ford remains pre-eminent in the critical goods categories, but its market share is down in spite of having sold more vehicles in most cases. Cargo sales, boosted by a dealers' sales competition in the autumn, climbed from 10,193 in 1982 to 10,601; the evergreen and recently revamped Transit fell from 43,723 to 41,723, but the South African-built P100 pick-up's first full year on the market took sales up from 3,490 to 7,439 in compensation; and in the light van sector, a fall in Fiesta van sales from 4,674 to 4,243 was accompanied by a rise in Escort sales from 21,873 to 22,352.
It is only in the bus and coach sector, where Ford's lightweight models are becoming increasingly unfashionable, that sales have fallen heavily. Sales of the Cargo-derived R-Series fell from 248 to 188.
It has been a good year for BL, with its subsidiaries all increasing sales and market share in the key goods categories, and holding their own in others. In spite of deep suspicions which still lurk in influential sectors of the operating industry, Leyland Trucks has done well, reversing a 10 year decline, knocking Bedford back into third place in the truck and artic sector and increasing sales from 1982's 6,062 to 7,476. Launch of the MT211 Terrier replacement in October may well help Leyland grow further towards the end of this year. Terrier sales were up 21 per cent last year. In the medium/heavy sector, Freight Rover's Sherpa is in second place, thanks largely to significant business which has been won from British Telecom and which is the envy (in volume if not in cash) of its competitors. Sales shot up last year from 9,617 to 14,209, and the recent addition of larger models up to 3.5 tonnes suggests that barring any prolonged production hiccups, it could do very well in 1984.
Post Office and Telecom business for the Morris Rai and Austin Metro vans have helped take Austin Rover within a whisker of toppling Ford from its lofty position in the light van sector, although Ford insists that labour troubles at Halewood depressed Escort sales for a while.
Austin Rover's sales are up from 18,385 to 25,256, making it the leading manufacturer of British light vans, as the Fiesta vans are all imported from Spain.
Land Rover, still the only British manufacturer of purposebuilt light 4x4s in the SMMT's statistics (Ford's conversions are included in the Transit figures) lost some market share, falling from 59 to 57 per cent of its sector, but availability of the improved One Ten models helped boost sales from 6,004 in 1982 to 6,768.
Leyland Bus has done well to sell only 43 vehicles fewer last year (down to 1,801) in a fiercely competitive and shrinking sector. Like its truck associate, its manufacturing capacity probably exceeds likely long-term demand for its products but its sales potential for this year is probably not too depressing, despite Metro-Cammell Weymann's stated ambition to knock it from first place. But MCW must wait until its coaches are in full production in 1985, which is the year it will be meeting all of London Transport's bus requirements after the Leyland Titan ceases to be built.
Bedford's fate last year underlines just how much lost ground must be regained by its enthusiastic, new, autonomous management. Its share of the over-3.5 tonne market fell with sales down from 6,477 to 6,174.
In the medium/heavy sector, where a CF successor is further away than Ford's Transit replacement, and where the Japanese-design ed WFR will not rnaky any impact until next year, the CF's sales fell from 12,801 to 11,897; but the Japanese-built KB pick-up, thanks to more room in the import quota, increased sales from 730 in 1982 to 1,278.
Sales of 4x4 KBs fell from 184 to 136.
Only in the light van sector, where the success of the Astra front-wheel-drive van has more than compensated for the loss of another PO/Telecom favourite, the HA, has there been a real growth. Sales climbed from 12,110 to 16,898.
While some of its competitors expect a revival of Bedford's fortunes in the coach market when its heavier duty model is launched later this year, its lighter models have lost ground to heavyweight competitors, with sales down from 346 to 284. In 1979, it sold 1,083 coaches.
Mercedes-Benz has gone on climbing in the market. Its competitors complain of rock-bottom pricing and customers say they get good value quality, but the fact cannot be escaped that it is now the fourth best seller over 3.5 tonnes, with sales up from 3,650 to 4,886.
Its performance in the medium/heavy van sector has been less spectacular, with volume up from 4,328 to 5,117, but market share only up by a tenth of a percentage point. Most of its few coach sales last year missed the SMMT statisticians' net, but the deal to sell 0303 models through Yeates' facilities will be worth watching this year.
Karrier's fall in the market is largely the result of lost business for Dodge models from economically squeezed municipal customers, as Renault models managed an increase from 340 to 352 and British-built G260s ought to boost that by a modest number in the course of this year, although it will be a long time before Renault vehicles look like selling in mass numbers.
Renault's Trafic and Master are largely the reponsibility of its car sales company (apart from some Masters sold by Karrier dealers) and they have gone on growing in the medium/heavy van sector with sales up from 3,203 to 5,048.
Its main French rival, Peugeot/Talbot has made a sizeable impact with the Talbot Express van, up from an introductory 73 at the end of 1982 to 3,146, and Peugeot pick-up sales climbed from 1,313 to 2,491.
Volvo's growth slowed down last year, with truck and artic sales up from 3,433 to 3,911. In the year that its Scottish-built models gained and then lost British status with the SMMT those models' market share fell from four to 2.6 per cent, with volume down from 1,837 to 1,280.
Swedish-built F7, F10 and F12 sales climbed from 921 to 1,524 and Belgian F6 sales were up from 675 to 1,107. Growing coach sales took it to second position in the bus and coach sector, with B1OM and B57 registrations up from 320 to 364 and Scottish-built AiIse registrations up from 79 to 87.
Others worth watching are Iveco (truck and artic up from 2,150 to 2,591), Daf (truck and artic up from 1,829 to 2,371; coach up from 146 to 209), and Scania (truck and artic up from 1,499 to 1,871; bus and coach up from five to 42).
Of the small British manufacturers, Seddon Atkinson troubled by a still unresolved future fell from 1,718 to 1,538 despite new models, ERF fell from 1,348 to 1,237, but Foden climbed from 522 to 602, and Hestair Dennis from 432 to 509 lorries. Dennis's hitherto promising bus and coach business suffered a setback, with sales down from 178 to 153. Van Hool, Neoplan, Bova, Setra and other assorted imported integral coaches won a sales jump from 146 to 161 coaches.
But MAN-VW slipped further. Its endeavours to grow again take place against truck and artic sales up from 807 to 832, but with market share down, medium/heavy vans down from 9,030 to 8,716, light vans (VW Golf) down from 672 to 442, and coaches from 29 to seven. It was the only importer to slip in the truck or coach sectors.