If you want to appear in a good light . .
14th January 1984
Page 25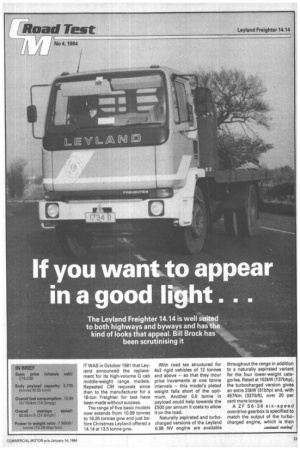 Page 26
Page 27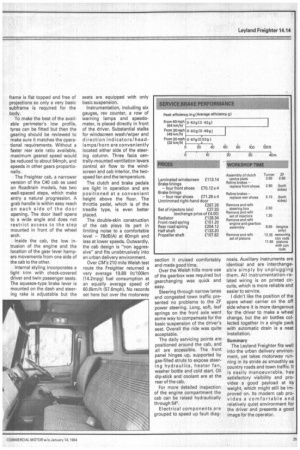 Page 25, 14th January 1984 —
If you want to appear in a good light . .
Close
The Leyland Freighter 14.14 is well suited to both highways and byways and has the kind of looks that appeal. Bill Brock has been scrutinising it
IT WAS in October 1981 that Leyland announced the replacement for its high-volume G cab middle-weight range models. Repeated CM requests since then to the manufacturer for a 16-ton Freighter for test have been made without success.
The range of five basic models now extends from 10.99 tonnes to 16.26 tonnes gvw and just before Christmas Leyland offered a 14.14 at 13.5 tonne gvw. With road tax structured for 4x2 rigid vehicles of 12 tonnes and above — so that they incur price increments at one tonne intervals — this model's plated weight falls short of the optimum. Another 0.5 tonne in payload could help towards the E500 per annum it costs to allow it on the road.
Naturally aspirated and turbocharged versions of the Leyland 6.98 NV engine are available throughout the range in addition to a naturally aspirated variant for the four lower-weight categories. Rated at 102kW (137bhp), the turbocharged version gives an extra 23kW (31bhp) and, with 457Nm (337Ibft), over 20 per cent more torque.
A ZF S6-36 six-speed overdrive gearbox is specified to match the output of the turbocharged engine, which is then transmitted to a single-reduction rear axle.
On the track the Freighter was geared to give a top speed of about 7 0 mph, so that for motorway running 60mph could be maintained at 2,200rpm for most of the time.
A light chassis kerb weight of 3.8 tonnes is achieved using a high-tensile steel frame and long, wide, taper-leaf springs front and rear, and a polymer bumper.
Leyland claims good visibility, good brakes, excellent acceleration, ease of entry and a low loading height. Certainly the large mirrors are a welcome aid in reversing in congested conditions and the glazed panels on all sides add to the light aspect of the cab interior. With light use of the pedal, the air/hydraulic braking system seemed to provide adequate response but un der more severe test conditions it was found wanting.
Back at Leyland the drums were removed and it was decided that the new hard linings that had been replaced in preparation for our test had not bedded properly. A repeat of our test procedure one week later showed only a marginal improvement.
It is difficult to compare the Freighter's acceleration performance for no other manufacturer specifies an indentical gvw. But it does match that achieved with a slightly lighter but more powerful Ford Cargo 1314 and betters the less powerful but lighter Bedford TL1260.
Minimum loading height is largely determined by wheel size and, to some degree, chassis frame depth. Our test vehicle was running on standard 22.5in rims with radial ply tyes giving an unladen chassis height of 0.92m (36.5in). The chassis frame is flat topped and free of projections so only a very basic subframe is required for the body.
To make the best of the available perimeter's low profile, tyres can be fitted but then the gearing should be reviewed to make sure it matches the operational requirements. Without a faster rear axle ratio available, maximum geared speed would be reduced to about 64mph, and speeds in other gears proportionally.
The Freighter cab, a narrower version of the C40 cab as used on Roadtrain models, has two well-spaced steps, which make entry a natural progression. A grab handle is within easy reach on each side of the door opening. The door itself opens to a wide angle and does not restrict access to the step mounted in front of the wheel arch.
Inside the cab, the low intrusion of the engine and the location of the gear lever hampers movements from one side of the cab to the other.
Internal styling incorporates a light trim with check-covered driver and twin passenger seats. The squeeze-type brake lever is mounted on the dash and steering rake is adjustable but the seats are equipped with only basic suspension.
Instrumentation, including six gauges, rev counter, a row of warning lamps and speedometer, is placed directly in front of the driver. Substantial stalks for windscreen wash/wiper and direction indicators/headlamps/horn are conveniently located either side of the steering column. Three facia centrally-mounted ventilation levers control air flow to the windscreen and cab interior, the twospeed fan and the temperature.
The clutch and brake pedals are light in operation and are positioned at a convenient height above the floor. The throttle pedal, which is of the treadle type, is even better placed.
The double-skin construction of the cab plays its part in limiting noise to a comfortable level — 78dB(A) at 60mph and less at lower speeds. Outwardly, the cab design is "non aggressive" and fits unobtrusively into an urban delivery environment.
Over CM's 210 mile Welsh test route the Freighter returned a very average 19.89 lit/100km (14.2mpg) fuel consumption at an equally average speed of 60.6km/h (57.6mph). No records set here but over the motorway section it cruised comfortably and made good time.
Over the Welsh hills more use of the gearbox was required but gearchanging was quick and easy.
Steering through narrow lanes and congested town traffic presented no problems to the ZF power steering. Long, soft, leaf springs on the front axle went some way to compensate for the basic suspension of the driver's seat. Overall the ride was quite acceptable.
The daily servicing points are positioned around the cab, and all are accessible. The front panel hinges up, supported by gas-filled struts to expose steering hydraulics, heater fan, washer bottle and cold start. Oil dip-stick and coolant are at the rear of the cab.
For more detailed inspection of the engine compartment the cab can be raised hydraulically through 54°.
Electrical components are grouped to speed up fault diag nosis. Auxiliary instruments are identical and are interchangeable simply by unplugging them. All instrumentation-related wiring is on printed circuits, which is more reliable and easier to service.
I didn't like the position of the spare wheel carrier on the off side where it is more dangerous for the driver to make a wheel change, but the air bottles collected together in a single pack with automatic drain is a neat installation.
Summary
The Leyland Freighter fits well into the urban delivery environment, yet takes motorway running in its stride as smoothly as country roads and town traffic. It is easily manoeuvrable, has satisfactory visibility and provides a good payload at its weight, which might still be improved on. Its modern cab provides a comfortable and relatively quiet environment for the driver and presents a good image for the operator.