Tougher action on recalls
14th January 1984
Page 24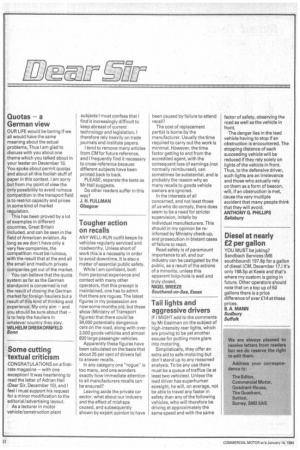 Page 24, 14th January 1984 —
Tougher action on recalls
Close
Keywords :
ANY WELL-RUN outfit keeps its vehicles regularly serviced and roadworthy. Unless short of work this is a necessity in order to avoid downtime. It is also a matter of essential public safety.
While I am confident, both from personal experience and contact with many other operators, that this precept is maintained, one has to admit that there are rogues. The latest figures in my possession are now some months old, but these show (Ministry of Transport figures) that there could be 34,000 potentially dangerous cars on the road, along with over 2,000 goods vehicles and almost 600 large passenger vehicles.
Apparently these figures have been calculated on the basis that about 25 per cent of drivers fail to answer recalls.
In any category one "rogue" is too many, and one wonders exactly how immediate attention to all manufacturers recalls can be ensured?
Leaving aside the private car sector, what about our industry and the effect of mishaps caused, and subsequently shown by expert opinion to have been caused by failure to attend recall?
The cost of replacement part(s) is borne by the manufacturer. Usually the time required to carry out the work is minimal. However, the time factor getting to and from the accredited agent, with the consequent loss of earnings (not normally reimbursed), can sometimes be substantial, and is probably the reason why so many recalls to goods vehicle owners are ignored.
In the interests of all concerned, and not least those of us who do comply, there does seem to be a need for stricter supervision, initally by individual manufacturers. This should in my opinion be reinforced by Ministry check-up, and prosecution in blatant cases of failure to react.
Road safety is of paramount importance to all, and our industry can be castigated by the public, as a result of the actions of a minority, unless this apparent loop-hole is well and truly closed.
NIGEL BREEZE Southend-on-Sea, Essex