Tail lights and aggressive drivers
14th January 1984
Page 24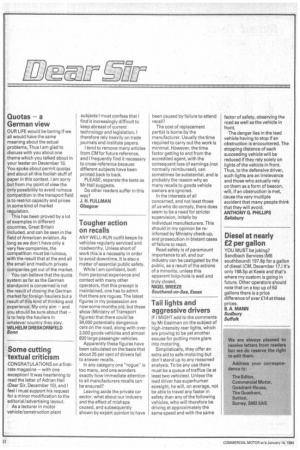 Page 24, 14th January 1984 —
Tail lights and aggressive drivers
Close
IF I MIGHT add to the comments by Mr Eastman on the subject of high-intensity rear lights, which are proving to be yet another excuse for putting more glare into motoring.
Simplistically, they offer an extra aid to safe motoring but don't stand up to any reasoned analysis. To be any use there must be a queue of traffice (ie at least two vehicles). Unless the lead driver has superhuman eyesight, he will, on average, not be able to travel any faster in safety than any of the following vehicles, who will therefore be driving at approximately the same speed and with the same factor of safety, observing the road as well as the vehicle in front.
The danger lies in the lead vehicle having to stop if an obstruction is encountered. The stopping distance of each succeeding vehicle will be reduced if they rely solely on lights of the vehicle in front. Thus, to the defensive driver, such lights are an irrelevance and those who actually rely on them as a form of beacon, will, if an obstruction is met, cause the very multiple accident that many people think that they will avoid.
ANTHONY G. PHILLIPS Salisbury