'Black taxi' plans corning at CIE
14th January 1984
Page 19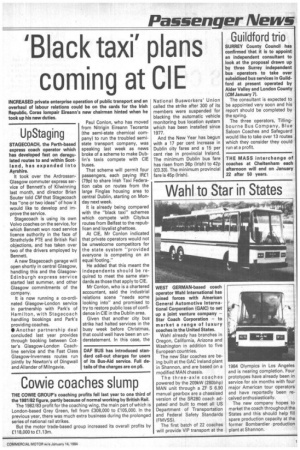 Page 19, 14th January 1984 —
'Black taxi' plans corning at CIE
Close
INCREASED private enterprise operation of public transport and an overhaul of labour relations could be on the cards for the Irish Republic, Coras lompair Eireann's new chairman hinted when he took up his new duties.
Paul Conlon, who has moved from Nitrigin Eireann Teoranta (the semi-state chemical company) to run the troubled semistate transport company, was speaking last week as news broke of a scheme to make Dublin's taxis compete with CIE buses.
That scheme will permit four passengers, each paying 1R£1 (79p) to share Irish Taxi Federation cabs on routes from the large Finglas housing area to central Dublin, starting on Monday next week.
It is already being compared with the "black taxi" schemes which compete with Citybus routes from Belfast to the republican and loyalist ghettoes.
At CIE, Mr Conlon indicated that private operators would not be unwelcome competitors for the state system "provided everyone is competing on an equal footing."
He added that this meant the independents should be required to meet the same standards as those that apply to CIE.
Mr Conlon, who is a chartered accountant, said the industrial relations scene "needs some looking into" and promised to try to restore public loss of confidence in CIE in the Dublin area.
Given that another city bus strike had halted services in the busy week before Christmas, that could well have been an understatement. In this case, the National Busworkers' Union called the strike after 300 of its members were suspended for blacking the automatic vehicle monitoring bus location system which has been installed since 1977.
And the New Year has begun with a 17 per cent increase in Dublin city fares and a 15 per cent rise in provincial Ireland. The minimum Dublin bus fare has risen from 36p (Irish) to 42p (£0.33). The minimum provincial fare is 45p (Irish).