Auditor investigates Hull's coaches
14th January 1984
Page 18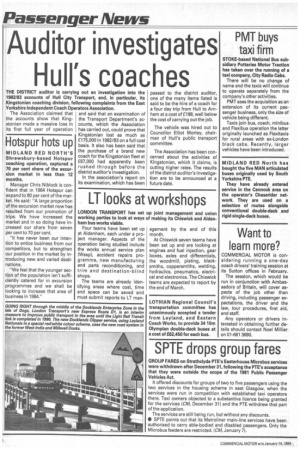 Page 18, 14th January 1984 —
Auditor investigates Hull's coaches
Close
THE DISTRICT auditor is carrying out an investigation into the 1982/83 accounts of Hull City Transport, and, in particular, its Kingstonian coaching division, following complaints from the East Yorkshire Independent Coach Operators Association.
The Association claimed that the accounts show that Kingstonian made a massive loss in its first full year of operation and said that an examination of the Transport Department's accounts, which the Association has carried out, could prove that Kingstonian lost as much as £175,000 in 1982/83 on a full cost basis. It also has been said that the purchase of a brand new coach for the Kingstonian fleet at £67,000 had apparently been rushed through before the district auditor's investigation.
In the association's report on its examination, which has been passed to the district auditor, one of the many items listed is said to be the hire of a coach for a four day trip from Hull to Arnhem at a cost of f188, well below the cost of carrying out the job.
The vehicle was hired out to Councillor Elliot Morley, chairman of Hull's public transport committee.
The Association has been concerned about the activities of Kingstonian, which it claims, is cutting higher rates. The results of the district auditor's investigation are to be announced at a future date.