Dangerous subs
14th January 1984
Page 13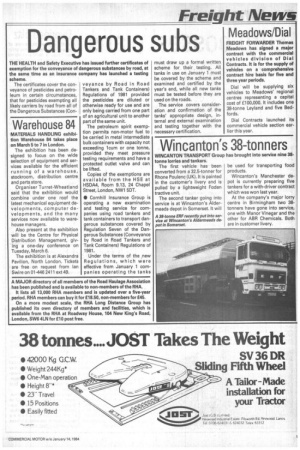 Page 13, 14th January 1984 —
Dangerous subs
Close
THE HEALTH and Safety Executive has issued further certificates of exemption for the conveyance of dangerous substances by road, at the same time as an insurance scheme.
The certificates cover the conveyance of pesticides and petroleum in certain circumstances, that for pesticides exempting all likely carriers by road from all of the Dangerous Substances (Con veyance by Road in Road Tankers and Tank Containers) Regulations of 1981 provided the pesticides are diluted or otherwise ready for use and are only being carried from one part of an agricultural unit to another part of the same unit.
The petroleum spirit exemption permits non-motor fuel to be carried in metal intermediate bulk containers with capacity not exceeding 1cum or one tonne, provided they meet pressure testing requirements and have a protected outlet valve and can be lifted.
Copies of the exemptions are available from the HSE at HSDA4, Room 9.13, 24 Chapel Street, London, NW1 5DT.
• Cornhill Insurance Group is operating a new examination and testing service for companies using road tankers and tank containers to transport dangerous substances covered by Regulation Seven of the Dangerous Substances (Conveyance by Road in Road Tankers and Tank Containers) Regulations of 1981.
Under the terms of the new Regulations, which were effective from January 1 companies operating the tanks must draw up a formal written scheme for their testing. All tanks in use on January 1 must be covered by the scheme and examined and certified by the year's end, while all new tanks must be tested before they are used on the roads.
The service covers consideration and confirmation of the tanks' appropriate design, internal and external examination and testing together with the necessary certification.