HOLY MACKEREL!
14th January 1977
Page 5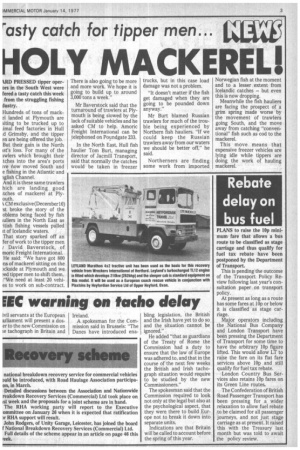 Page 5, 14th January 1977 —
HOLY MACKEREL!
Close
'1113 PRESSED tipper operors in the South West were fered a tasty catch this week from the struggling fishing dustry.
Hundreds of tons of mackel landed at Plymouth are kiting to be trucked up to Lima] feed factories in Hull Ld Grimsby, and the tipper en are being offered the job. But their gain is the North ist's loss. For many of the kwlers which brought their tches into the area's ports lye now moved South and e fishing in the Atlantic and kglish Channel.
And it is these same trawlers hich are landing good ,tches of mackerel at Plyouth.
,k CM exclusive (December 10) st broke the story of the oblems being faced by fish [killers in the North East as itish fishing vessels pulled it of Icelandic waters.
That story sparked off an fer of work to the tipper men David Baverstock, of moric Freight International. He said: "We have got 800 ns of mackerel sitting on the ickside at Plymouth and we ..ed tipper men to shift them. "We need at least 20 vehies to work on sub-contract. There is also going to be more and more work. We hope it is going to build up to around 3,000 tons a week."
Mr Baverstock said that the turnaround of trawlers at Plymouth is being slowed by the lack of suitable vehicles and he asked CM to help. Amoric Freight International can be telephoned on Poundgate 233.
In the North East, Hull fish haulier Tom Burt, managing director of Jacmill Transport, said that normally the catches would be taken in freezer trucks, but in this case load damage was not a problem.
"It doesn't matter if the fish get damaged when they are going to be pounded down anyway."
Mr Burt blamed Russian trawlers for much of the trouble being experienced by Northern fish hauliers. "If we could keep the Russian trawlers away from our waters we should be better off," he said.
Northerners are finding some work from imported Norwegian fish at the moment and to a lesser extent from Icelandic catches — but even this is now dropping.
Meanwhile the fish hauliers are facing the prospect of a grim spring made worse by the movement of trawlers going South, and the move away from catching "conventional" fish such as cod to the mackerel.
This move means that expensive freezer vehicles are lying idle while tippers are doing the work of hauling mackerel.