Q 0ne of our drivers, while engaged on a household removal
14th January 1977
Page 47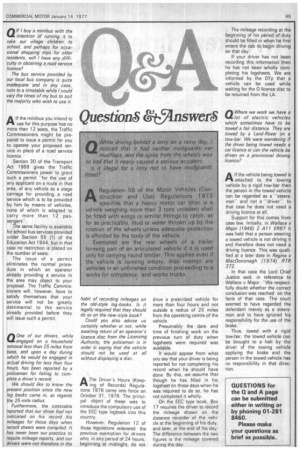 Page 47, 14th January 1977 —
Q 0ne of our drivers, while engaged on a household removal
Close
less than 25 miles from base, and upon a day during which he would be engaged in actual driving for less than four hours, has been reported by a policeman for failing to complete a driver's record.
We should like to know the present position since the new log books came in, as regards the 25-mile radius.
Furthermore, the constable reported that our driver had not indicated On his record his mileages for those days when record sheets were compiled. It has never been our practice to require mileage reports, and our drivers were not therefore in the
habit of recording mileages on the old-style log-books. Is it legally required that they should do so on the new-style book?
Could you also advise us certainly whether or not, while awaiting return of an operator's licence disc from the Licensing Authority, the policeman is in order in saying that the vehicle should not be used at all without displaying a disc
AThe Driver's Hours (Keeping of Records) Regulations 1976 came into force on October 31, 1976. The principal object of these was to introduce the compulsory use of the EEC type logbook into this country.
However, Regulation 12 of those regulations reiterated the previous exemption for drivers who, in any period of 24 hours, beginning at midnight, do not drive a prescribed vehicle for more than four hours and not outside a radius of 25 miles from the operating centre of the vehicle.
Presumably the date and time of finishing work on the previous turn of duty when logsheets were required was available.
It would appear from what you say that your driver is being reported for not completing his record when he should have done. By this, we assume that though he has filled in his logsheet on those days when he was required to do so, he has not completed it wholly.
On the EEC type book, Box 17 requires the driver to record the mileage shown on the distance recorder of the vehicle at the beginning of his duty, and later, at the end of his day. The difference between the two figures is the mileage covered during the day, The mileage recording at the beginning of his period of duty should be filled in when he first enters the cab to begin driving on that day.
If your driver has not been recording this information then he has not been wholly completing his logsheets. We are informed by the DTp that a vehicle can be used while waiting for the 0 licence disc to be returned from the LA.