Weigkt Istettagee welled I
14th January 1977
Page 41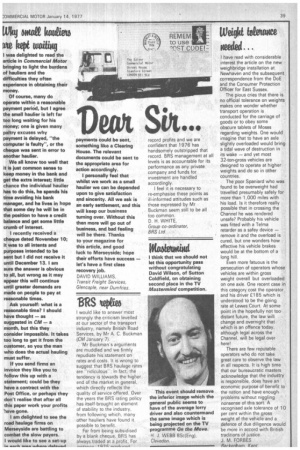 Page 41, 14th January 1977 —
Weigkt Istettagee welled I
Close
I have read with considerable interest the article on the new weighbridge installation at Newhaven and the subsequent correspondence from the DoE and the Consumer Protection Officer for East Sussex.
The pious cries that there is no official tolerance on weights makes one wonder whether transport operation is conducted for the carriage of goods or to obey some obscure tablets of Moses regarding weights. One would imagine that to have an axle slightly overloaded would bring a tidal wave of destruction in its wake — and yet most 32-ton-gross vehicles are designed to operate at higher weights and do so in other countries.
The poor Spaniard who was found to be overweight had travelled presumably safely for more than 1,000 miles with his load. Is it therefore really possible that in crossing the Channel he was rendered unsafe? Probably his vehicle was fitted with a Telma retarder as a safey device — remove it and the overload is cured, but one wonders how effective his vehicle brakes would be at the bottom of a long hill.
Even more fatuous is the persecution of operators whose vehicles are within gross weight overall but overloaded on one axle. One recent case in this category cost the operator and his driver £185 which is understood to be the going .rate at Lewes Court. At some point in the hopefully not too distant future, the law will change and overnight that which is an offence today, although legal across the Channel, will be legal over here!
There are few reputable operators who do not take great care to observe the law in all respects. It is high time that our bureaucratic masters acknowledge that the industry is responsible, does have an economic purpose of benefit to the nation and have enough problems without niggling nonsense of this sort. A recognised axle tolerance of 10 per cent within the gross weight of the vehicle and a defence of due diligence would be more in accord with British traditions of justice J. M. FORBES
Rprkp.nkarn_ Kent.