Transcontinental praise
14th January 1977
Page 36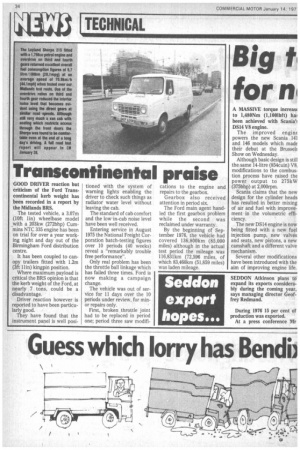 Page 36, 14th January 1977 —
Transcontinental praise
Close
GOOD DRIVER reaction but criticism of the Ford Transcontinental kerb weight has been recorded in a report by the Midlands BRS.
The tested vehicle, a 3.07m (10ft lin) wheelbase model with a 203kw (272bhp) Cummins NTC 335 engine has been on trial for over a year working night and day out of the Birmingham Ford distribution centre.
It has been coupled to canopy trailers fitted with 1.2m (3ft 11 in) kingpin position.
Where maximum payload is critical the BRS opinion is that the kerb weight of the Ford, at nearly 7 tons, could be a disadvantage.
Driver reaction however is reported to have been particularly good.
They have found that the instrument panel is well posi tioned with the system of warning lights enabling the driver to check such things as radiator water level without leaving the cab.
The standard of cab comfort and the low in-cab noise level have been well received.
Entering service in August 1975 the National Freight Corporation batch-testing figures over 10 periods (40 weeks) reveal a "remarkably trouble free performance".
Only real problem has been the throttle ball linkage which has failed three times. Ford is now making a campaign change.
The vehicle was out of service for 11 days over the 10 periods under review, for minor repairs only.
First, broken throttle joint had to be replaced in period one; period three saw modifi cations to the engine and repairs to the gearbox.
Gearbox also received attention in period six.
The Ford main agent handled the first gearbox problem while the second was reclaimed under warranty.
By the beginning of September 1976, the vehicle had covered 136,800km (85,000 miles) although in the actual test period the mileage was 116,831km (72,596 miles, of which 83,460km (51,859 miles) was laden mileage.