The Seymour Anti-dazzle Mask
14th January 1944
Page 28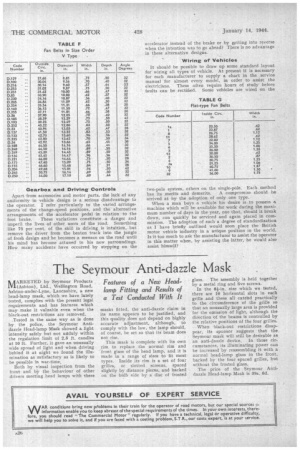 Page 28, 14th January 1944 —
The Seymour Anti-dazzle Mask
Close
Features of a New Headlamp Fitting and Results of a Test Conducted With It
AARKETED by Seymour Products IVI(Asliton), Ltd.. Wellington Road, Ashton-under-Lyne, Lancashire, a new head-lamp mask, which we have lately tested, complies with the present legal requirements and has features which may make it valuable even when the black-out restrictions are removed.
.Tested in the same way as is done by the police, the Seymour Antidazzle Head-lamp Mask showed alight intensity safely but not unduly within the regulation limit of 2.5 ft. candles at 10 ft. Further, it gave an unusually wide spread of light and when driving behind it at night we found the illumination as satisfactory as is likely to be possible in war-time.
Both by visual inspection from the front and by the behaviour of other drivers meeting head lamps with these masks fitted, the anti-dazzle claim in its name appears to be justified, and this quality does not depend on highly accurate adjustment, although, to comply with the law, the lamp should, of course, be set so that its beam does not rise.
This mask is complete with its own rim to replace the normal rim and front glass of the head lamp, and it is made in a range of sizes to fit most types. Inside its rim is a set of four grilles, or slotted screens, spaced slightly by distance pieces, and backed on the bulb side by a disc of frosted glass. The assembly is held together by a metal ring and five screws.
In the 8i-in. size which we tested, there are 16 horizontal slots in each grille and these all extend practically to the circumference of the grille so that an unusually large area is provided for the emission of light, although the direction of the beams is controlled by the relative positions of the four grilles.
When black-out restrictions disappear, its sponsor suggests that the. Seymour mask will still be desirable as an anti-dazzle device. In those circumstances, its illuminating power can be increased by reassembling it with a normal head-lamp glass in the front, backed by the four spaced grilles, but without the frosted glass.
The price of the Seymour Antidazzle Head-lamp Mask is 39s. fid.