Personal Pars
14th January 1944
Page 20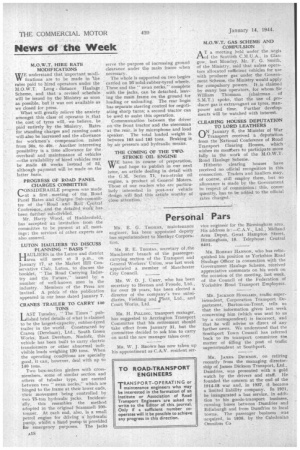 Page 20, 14th January 1944 —
Personal Pars
Close
MR. E. G. THOMAS, maintenance engineer, has been appointed deputy bus superintendent to Merthyr Corporation.
MR. R. E. THOMAS, secretary of the Manchester branch of the passengercarrying section of the Transport and General Workers' Union, was last week appointed a member of Manchester City Council.
MR. W. 0. J. URRII, who has been secretary to Heenan and Froucle. Ltd., for over 20 years, has been elected a director of the company's two subsidiaries, Fielding and Ilatt, Ltd., and Court Works, Ltd.
MR. H. PILLING, transport manager, has suggested to Accrington Transport Committee that his retirement should take effect from January 31, but the committee decided to ask him to carry on until the new manager takes over.
Ma. W. J. BROWN has now taken up is appointment as C.A.V. resident ser
vice engineer for the Birmingharri area. His address is :—C.A.V., Ltd" Midland Area Depot, Great Hampton Street, Birmingham, 18. Telephone: Central 8401.
MR. ROBERT HANSON, who has relinquished his position as Yorkshire Road Haulage Officer in connection with the Government Haulage Scheme, received appreciative comments on his work on the occasion of the meeting, last week, of the Council of the Federation of Yorkshire Road Transport Employers.
MR. JACKSON HOGGARD, traffic superintendent, Corporation Transport 'Department, Burton-on-Trent, tells us that the information given last week concerning him (which was sent to us by a correspondent) is incorrect, and that he will advise us direct of any further news. We understand that the Southport Town Council has referred back to its transport committee the matter of filling the post of traffic superintendent at Southport.
MR. JAMES DICKSON, on retiring recently from the managing directorship of James Dickson Transport, Ltd., Dumfries, was presented with a gold watch by the drivers and staff. He founded the concern at the end of the 1914-18 war and, in 1937, it became a limited liability company. In 1921, he inaugurated a bus service, in addition to his goods-transport business. running buses between Dumfries and Edinburgh and from Dumfries to local towns. The passenger business was 'acquired, in 1936, by the Caledonian Omnibus Co