One Hears
14th January 1944
Page 19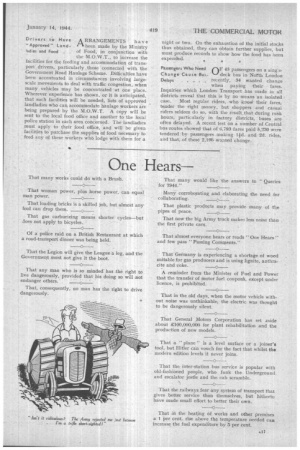 Page 19, 14th January 1944 —
One Hears
Close
That many works could do with a Brush.
That woman power, plus horse power, can equal man power. .
That loading bricks is a skilled job, but almost any fool can drop them.
That gas carburizing means shorter cycles—but does not apply to bicycles.
Of a police raid on a British Restaurant at which a road-transport dinner was being held, That the Legion will give the League a leg, and the Government must not give it the boot.
That any man who is so minded' has -the right to live dangerously, provided that his doing so will not endanger others. 0 That, consequently, no man has the right to drive dangerously. That many would like the answers to "Queries for 1944."
Many corroborating and elaborating the need for collaborating.
That plastic products may provide many of the pipes of peace. 0
That now the big Army truck makes less noise than the first private cars.. •
That almost everyone hears or reads "One Hears" and few pass "Passing Comments."
That Germany is experiencing a shortage of wood suitable for gas producers and is using lignite, anthra cite and coke. 0 A reminder from the Minister of Fuel and Power that the transfer of motor fuel coupon, except under licence, is prohibited.
That in the old days, when the motor vehicle without noise was unthinkable, the electric was thought to be dangerously silent.
That General Motors Corporation has set aside about £100,000,000 for plant rehabilitation and the production of new models.
That a " plane " is a level surface or a joiner's tool, but Hitler can vouch for the fact that whilst the modern edition levels it never joins.
That the inter-station bus service is popular with old-fashioned people, who funk the Underground and escalator jostle and the cab scramble.
That the railways fear any system of transport that gives better service than themselves, but hitherto have made small effort to better their own.
That in the heating of works and other premises a 1 Per cent. rise above the temperature needed can increase the fuel expenditure by 5 per cent.