Passing Comments
14th January 1944
Page 18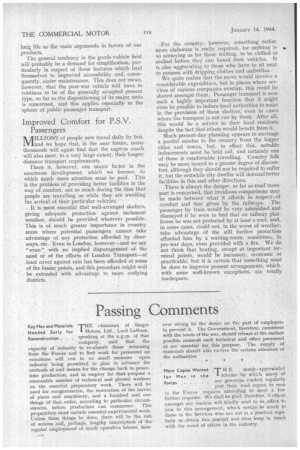 Page 19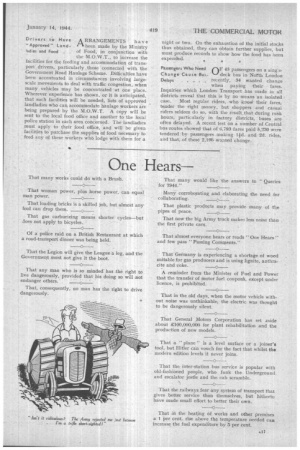 Page 18, 14th January 1944 —
Passing Comments
Close
Keywords :
Key Men and Materials THE chairman of Singer
. Needed Early for Motors, Ltd., Lord Latham,•
Reconstruction . . speaking at the a.g.m. of that
company, said that the capacity of industry to re-absorb those returning from the Forces and to find work for personnel on munitions will rest in no small measure upon industry being permitted to plan in advance the methods of and means for the change back to peacetime production, and to employ for that. purpose a. reasonable number of technical and pivotal workers on the essential preparatory work. There will be need for reorganization, the restoration of the layout of plant and machinery, and a hundred and one things of that order, according to particular circumstances, before production can commence. This
• preparation must include essential experimental work. Unless these things be done, there will be the risk of serious and, perhai5s, lengthy interruption of the regular employment of Much operative labour, hOw ever strong be the desire on the part of employers to prevent it. The Government, therefore, consistent with the needs of the war, should release at the earliest possible moment such technical and other personnel ai are essential for this purpose. The supply of materials should also receive the serious attention of the authorities.
More Copies Wanted H E much appreciated for Men in the scheme by which many of Forces . . . our generous readers regularly
post their read copies to men in the Forces requires extending to meet a few further requests. We shall be glad, therefore, if others amongst our readers will kindly send to Os offers to join in this arrangement, which means so much to those in the Services who are not in a position reguiarly to obtain this journal and thus keep in touch with the trend of affairs in the industry.
Drivers to Have ARRANGEMENTS ' have "
Approved' Land A-1.been made by the Ministry ladies and Food . , of Food, in conjunction with
the M.O.W.T., to increase the facilities for the feeding and accommodation of transport drivers, particularly, those connected with the Government Road Haulage Scheme. Difficulties have been accentuated in circumstances involving largescale movements to deal with traffic congestion, when many vehicles may be concentrated at one place. Wherever experience has shown, or it is anticipated, that such facilities will be needed, lists of approved landladies who can accommodate haulage workers are being prepared by the M.O.W.T. A copy will be sent to the local food office and another to the local police station in each area concerned. The landladies must apply to their food office, and will be given facilities to purchase the supplies of food necessary to feedany of these workers wilt+ lodge with them for a night or two. On the exhaustion of the initial stocks thus obtained, they can obtain further supplies, but must produce records to show how the food has been expended. *
Passengers Who Need F 45 passengers an a singe Change Cause Bu; •-• deck bus in Nofth London Delays recently, 34 wanted change when paying their fares. Inquiries which LondonTransport has made in all districts reveal that this is by no means an isolated case. Most regular riders, who know their fares, tender the right money, but shoppers and casual riders seldom do so, with the result:that_ during rush hours, particularly in factory districts, buses are often delayed. A recent test on a number of Central bus routes showed that of 9,793 fares paid 5,230 were tendered -by passengers making 10. and 2d. rides, and that, of these 2,1-913 wanted change.