A Normal to Forward-control Conversion
13th October 1944
Page 23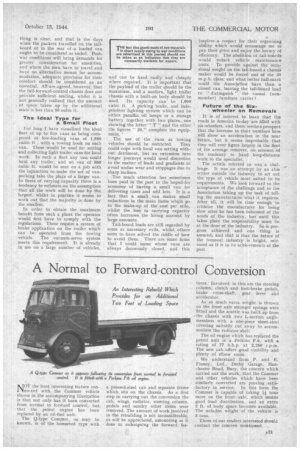 Page 23, 13th October 1944 —
A Normal to Forward-control Conversion
Close
NOT the least interesting feature connected with the Commer vehicle shown in the accompanying illustration is that not only has it been converted from normal to forward control, but that the petrol engine has been replaced by an oil-fuel unit.
The Q-type Commer, as may be known, is of the bonneted type with a pressed-steel cab and separate frame which sits on the chassis. As a first step in carrying out the conversion the cab, wings, radiator, steering column, pedals and sundry other items were removed. The amount of work involved in the rebuilding is not inconsiderable, as will be appreciated, amounting as it does to redesigning the forward fea tures. Involved in this are the steering* column, clutch and foot-brake pedals, brake cross-shaft, gear lever and accelerator.
As so much extra weight is thrown on the front axle stronger springs were fitted and the scuttle was built up from ,the chassis with two L-section anglemembers with a one-piece sheet-steel covering suitably cut away to accommodate the radiator shell.
The oil engine which has replaced the petrol unit is a Perkins P.6, with a rating of 77 b,h.p. at 2,250 r.p.m. The new cab offers good visibility and plenty of elbow room.
We understand from P. and E. Finney, Ltd., Derby Garage, Manchester Road, Bury, the concern which carried out the work, that the Commer and other vehicles which have been similarly converted are proving satisfactory in service. In this form the Commer is capable of taking II tons more on the front axle, which means good load distribution, and an extra
2 ft. of body space becomes available. The unladen weight of the vehicle is 3 tons.
Those of our readers interested should contact the concern mentioned.