Express Carriers Expedite Merger Arrangements
13th October 1944
Page 21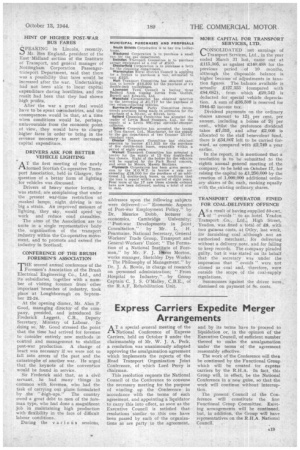 Page 21, 13th October 1944 —
Express Carriers Expedite Merger Arrangements
Close
AT a special general meeting of the National Conference of Express Carriers, held on October 3 under the chairmanship of Mr. W. J. A. Peck, a resolution was unanimously adopted approving the amalgamation agreement which implements the reports of the Road Transport Organization Joint Conference, of which Lord Perry is chairman.
This resolution requests the National Council of the Conference to convene the necessary meeting for the purpose of winding up the Conference in accordance with the terms of such agreement, and appointing a liquidator to carry this into effect, as soon as the Executive Council is satisfied that resolutions similar to this one have been passed by such of the organizations as are party to the agreement, and by its terms have to proceed to liquidation or, in the opinion of the Executive Council, of sufficient number thereof to make the amalgamation under the terms of the agreement reasonably effective.
The work of the Conference will then be continued by the Functional Group which will be created for express carriers by the R.H.A. In fact, this Group will, in effect, be the National Conference in a new guise, so that the work will continue without interruption.
The present Council of the Conference will constitute the first Functional Group Committee. Existing arrangements will be continued, but, in addition, the Group will have representatives on the R.H.A. National Council.