I.A.E. President and Homeproduced Fuel T HE president of the Institution of
13th October 1944
Page 20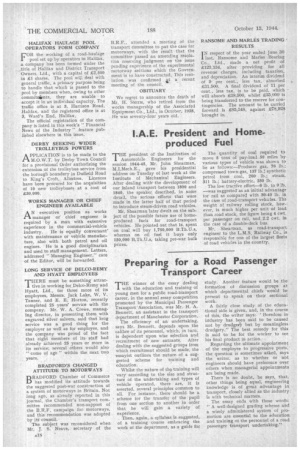 Page 20, 13th October 1944 —
I.A.E. President and Homeproduced Fuel T HE president of the Institution of
Close
Automobile Engineers for the session 1944-45, Mr. John Shearman, M.I.Mech.E., gave his presidential address on-Tuesday of last week at the Institute of Mechanical Engineers. After dealing with' the development' of our inland transport between 1800 and 1840, the speaker described, in some detail, the serious efforts that were made in the latter half of that period to introduce steam-driven road vehicles.
Mr. Shearman later dwelt on the subject of the possible future use of home. produced fuels for road-transport vehicles. He pointed out that Is. spent on coal will buy 1,750,000 B.Th.U.s, whereas on oil fuel it buys only 150,000 B.Th.U.s, taking pre-war bulk prices.
The quantity of coal required to move 5 tons of pay-load 50 miles by various types of vehicle was shown to be as follows:—Producer gas, 76 lb.: compressed town-gas, 137 lb.', synthetic petrol from coal, 200 lb.; steam, 311 lb.: battery-electric, 350 lb.
The low tractive effort-6 lb. to 9 lb. —was suggested as an initial advantage for rail as compared with 30-40 lb. in the case of road-transport vehicles. The weight of railway rolling stock, however, is much higher per unit of load than road stock, the figure being 4 cwt. per passenger on rail, and 2.2 cwt. in the case of a double-deck bus.
Mr. Shearman, as road-transport engineer to the L.M.S. Railway Co., is responsible for one of the largest fleets of road vehicles in the country.