Passing Comments How to Repair Syn. ISEFUL advice on the
13th October 1944
Page 16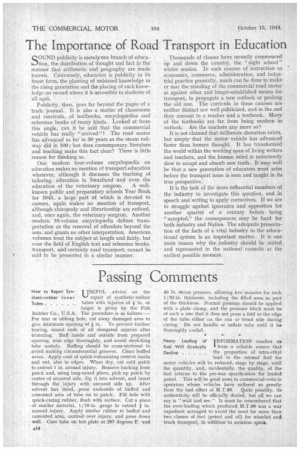 Page 17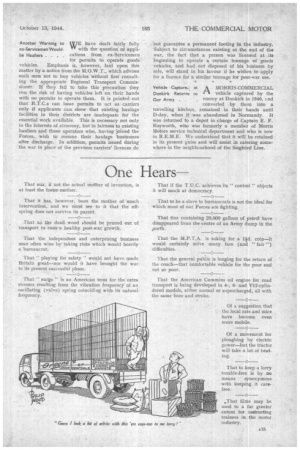 Page 16, 13th October 1944 —
Passing Comments How to Repair Syn. ISEFUL advice on the
Close
thetic-rubber Inner '-) repair of synthetic-rubber Tubes tubes with injuries of in. or
larger is given by the Fisk Rubber Co., U.S.A. The procedure is as follows:— For tear or oblong hole, cut away damaged area to give minimum opening Of in. To prevent further tearing, round ends of all elongated injuries after trimming. Buff inside and outside from prepared opening, trim edge thoroughly, and avoid stretching tube unduly. Buffing should be cross-sectional to avoid making circumferential grooves. Clean buffed areas. Apply coat of quick-vulcanizing cement inside and out, also to edges. When dry, cut cold patch to extend 1 in. around injury. Remove backing from patch and, using long-nosed pliers, pick up patch by centre of uncured side, dip it into solvent, and insert through the .injury with uncured side p. After solvent has dried, press underside of buffed and cemented area of tube on to patch. Fill hole with quick-curing rubber, flush with surface. Cut a piece of similar material, 1/16-in. gauge to extend I in. around injury. Apply similar rubber to buffed and cemented area, centred over injury, and press down well. Cure tube on hot plate at 287 degrees F. and el4
40 lb. steam pressure, allowing five 'minutes for each 1/32-in, thickness, including the filled area as part of the thickness. Normal pressure should be applied with a plate clamp, and the pressure block must be of such a size that it does not press a fold or the edge of the tube either on the rim or tread side during curing. Do not handle or inflate tube until it be thoroughly cooled.
Heavy Leading of INFORMATION reaches us Fuel Will Gradually A from a reliable source that Decline the proportion of tetra-ethyl
lead in the normal fuel for motor vehicles will be reduced, stage by stage, until the quantity, and, incidentally, the quality, of the fuel returns to the pre-war specification for leaded petrol. This will be good news to commercial-vehicle operators whose vehicles have suffered so greatly
from the bad effect of 3/I.T.80. Quite possibly, its authenticity will be officially denied, but all we can say is "wait and see." It must be remembered that the over-leading which produced M.T.80 was a war expedient arranged to avoid the need for more than two classes of fuel (petrol and oil) for wheeled and truck transport, in addition to aviation spirit.
Another Warning to WE have dealt fairly fully ex-Servicemen Would" with the question of appli be Hauliers . . cations from ex-Servicemen for permits to operate goods vehicles. Emphasis is, however, laid upon this matter by a notice from the M.O.W.T., which advises such men not to buy vehicles without first consulting the appropriate Regional Transport Commissioner. If they fail to take this precaution they run the risk of having vehicles left on their" hands with no permits to operate them. It is pointed -out that R.T.C.s can issue permits to act as carriers only if applicants can show that existing haulage facilities in their districts are inadequate for the essential work available. This is necessary not only in the interests of economy, but in fairness to existing hauliers and those operators who, having joined the Forces, wish to resume their haulage businesses after discharge. In addition, permits issued during the war in place of the previous carriers' licences do not guarantee a permanent footing in the industry. Subject to circumstances existing at the end of the war, the fact that a person was licensed at its beginning to operate a certain tonnage of goods vehicles, and had not disposed of his business by sale, will stand in his favour if he wishes to apply for a licence for a similar tonnage for post-war use.
Vehicle Capture,: at A MORRIS-COMMERCIAL
Dunkirk Returns to vehicle captured by the Our Army . . enemy at Dunkirk in 1940, r.nd
converted by them into a travelling kitchen, remained in their hands until D-day, when it was abandoned in Normandy. It was returned to a depot in charge of Captain E. F. Rayworth, who was formerly a member of Morris Motors service technical department and who is now in R.E.M.E. We understand that it will be retained in its present guise and will assist in catering somewhere in the neighbourhood of the Siegfried Line.