One Hears
13th October 1944
Page 17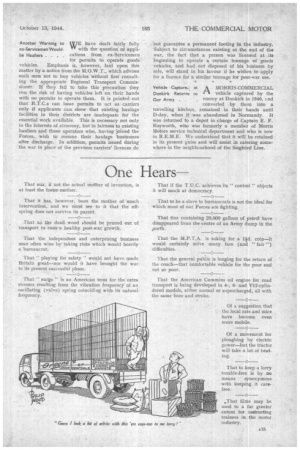 Page 17, 13th October 1944 —
One Hears
Close
That war, if not the actual mother of invention, is at least the foster-mother.
That it has, however, been the mother of much intervention, and we must see to it that the offspring does not survive its parent.
That all the dead wood should be pruned out of transport to enswe healthy post-war growth.
That the independent and enterprising business man often wins by taking risks which would horrify a bureaucrat.
That "playing for safety" would not have made Britain great—nor would it have brought the war to its present successful phase.
That " surge " is an American term for the extra stresses resulting from the vibration frequency of an oscillating (valve) spring coinciding with its natural frequency. That if the T.U.C. achieves its " control " objects it will mock at democracy.
That to be a slave to bureaucrats is not the ideal for which most of our Forces are fighting.
That tins containing 20,000 gallons of petrol have disappeared from the centre of an Army dump in the ,porth.
That the M.P.T.A. is asking for a 14c1. coin—it would certainly solve many fare (and "fair ") difficulties.
That the general public is longing for the return of the coach—that comfortable vehicle for the poor and not so poor.
That the American Cummins oil engine for road transport is being developed in 4-, 8and V12-cylindered models, either normal or supercharged, all with the same bore and stroke.
Of a suggestion that the local rats and mice have become even more mobile.
Of a movement for ploughing by electric power—but the tractor will take a lot of beating.
That to keep a lorry trouble-free is by no means synonymous with keeping it carefree.
_That films may be used to a far greater extent for instructing trainees in the motor industry.