The Operation of Modern High-speed Aircraft Demands Large Fleets of
13th May 1960
Page 50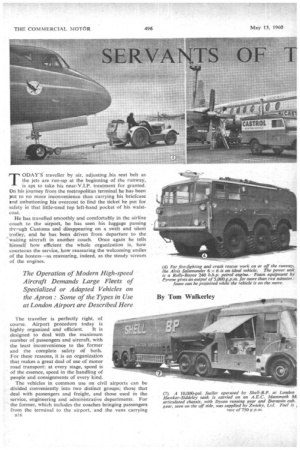 Page 51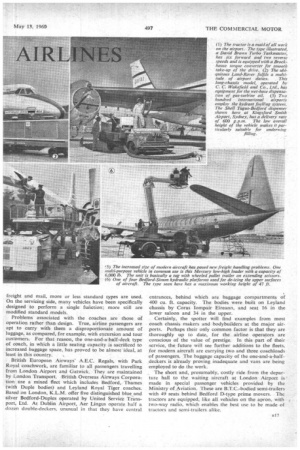 Page 52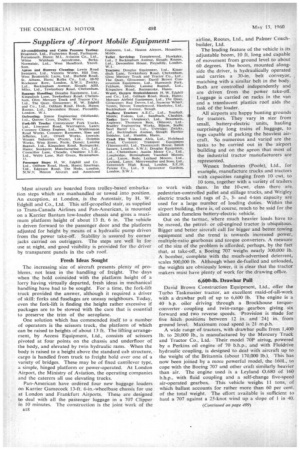 Page 55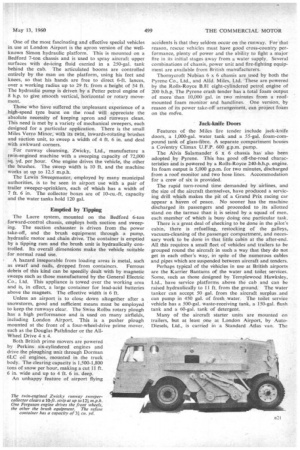 Page 56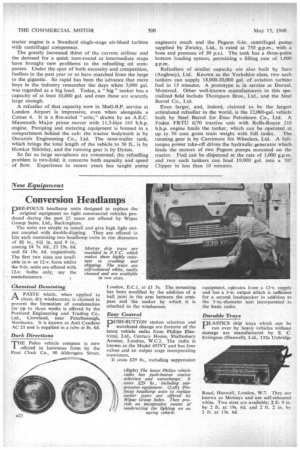 Page 50, 13th May 1960 —
The Operation of Modern High-speed Aircraft Demands Large Fleets of
Close
Specialized or Adapted Vehicles on the Apron : Some of the Types in Use at London Airport are Described Here
By Tom Walkerley
TODAY'S traveller by air, adjusting Ids seat belt as the jets are run-up at the beginning of the runway, is apt to take his near-V.I.P. treatment for granted. On his jOurney from the metropolitan terminal he has been put to no more inconvenience than carrying his briefcase Rnd unbuttoning his overcoat to find the ticket he put for safety in that little-used top left-hand pocket of his waistcoat.
He has travelled smoothly and comfortably in the airline coach to the airport, he has seen his luggage passing thr,,ugh Customs and disappearing on a swift and silent trolley, and he has been driven from departure to the waiting aircraft in another coach. Once again he tells himself how efficient the whole organization is, how courteous the service, how reassuring the welcoming smiles of the hostess—as reassuring, indeed, as the steady scream of the engines.
The traveller is perfectly right, of course. Airport procedure today is
highly organized and efficient. It is designed to deal with the maximum number of passengers and aircraft, with the least inconvenience to the former and the complete safety of both. For these reasons, it is an organization that makes a great deal of use of motor road transport: at every stage, speed is of the essence, speed in the handling of people and consignments of every kind.
The vehicles in common use on civil airports can be divided conveniently into two distinct groups; those that deal with passengers and freight, and those used in the service, engineering and administrative departments. For the former, which includes the coaches bringing passengers from the terminal to the airport, and the vans carrying freight and mail, more or less standard types are used. On the servicing side, many vehicles have been specifically designed to perform a single function; more still are modified standard models.
Problems associated with the coaches are those of operation rather than design. True, airline passengers are apt to carry with them a disproportionate amount of luggage, as compared, for example, with excursion and tour customers. For that reason, the one-and-a-half-deck type of coach, in which a little seating capacity is sacrificed to increased baggage space, has proved to be almost ideal, at least in this country.
British European Airways' A.E.C. Regals,with Park Royal coachwork, are familiar to all passengers travelling from London Airport and Gatwick. They are maintained by London Transport. British Overseas Airways Corporation use a mixed fleet which includes Bedford, Thames (with Duple bodies) and Leyland Royal Tiger coaches. Based on London, K.L.M. offer five distinguished blue and silver Bedford-Duples operated by United Service Transport, Ltd. At Dublin Airport, Aer Lingus operate half a dozen double-deckers, unusual in that they have central
entrances, behind which are baggage compartments of 400 cu. ft. capacity. The bodies were built on Leyland chassis by Coras Iompair Eireann, and seat 16 in the lower saloon and 34 in the upper.
Certainly, the spotter will find examples from most coach chassis makers and bodybuilders at the major airports. Perhaps their only common factor is that they are thoroughly up to date, for the airline operators are conscious of the value of prestige. In this part of their service, the future will see further additions to the fleets, for modern aircraft are carrying two and three coachloads of passengers. The baggage capacity of the one-and-a-halfdeckers is already proving inadequate and vans are being employed to do the work.
The short and, presumably, costly ride from the departure hall to the waiting aircraft at London Airport is • made in special passenger vehicles provided by the Ministry of Aviation. These are B.T,C.-bodied semi-trailers with 49 seats behind Bedford D-type prime movers. The tractors are equipped, like all vehicles on the apron, with , two-way radio, which enables the best use to be made of tractors and semi-trailers Most aircraft are boarded from trolley-based embarkation steps which are manhandled or towed into position. An exception, at London, is the Autostair, by H. W. Edghill and Co., Ltd. This self-propelled stair, as supplied to Trans-Canada Airlines and Pan-American, is mounted on a Karrier Bantam low-loader chassis and gives a maximum platform height of about 13 ft. 6 in. The vehicle is driven forward to the passenger door and the platform adjusted for height by means of a hydraulic pump driven from the power take-off. Stability is assured by corner jacks carried on outriggers. The steps are well lit for use at night, and good visibility is provided for thc driver by transparent panels in the cab roof.
Fresh Ideas Sought
The increasing size of aircraft presents plenty of problems, not least in the handling of freight. The days when the hold coincided with the platform height of a lorry having virtually departed, fresh ideas in mechanical handling have had to be sought. For a time, the fork-lift truck provided the answer, although it required a driver of skill: forks and fuselages are uneasy neighbours. Today, even the fork-lift is finding the height rather excessive if packages are to be stowed with the care that is essential to preserve the trim of the aeroplane.
One solution which has commended itself to a number of operators is the scissors truck, the platform of which can be raised to heights of about 13 ft. The lifting arrangement, by Access Equipment, Ltd., consists of scissors pivoted at four points on the chassis and underfloor of the body, and elevated by twin hydraulic rams. When the body is raised to a height above the standard cab structure, cargo is handled from truck to freight hold over one of a variety of bridges. These may be of fixed cantilever type, a simple, hinged platform or power-operated. At London Airport, the Ministry of Aviation, the operating companies and the caterers all use elevating trucks.
Pan-American have ordered four new baggage loaders on Karrier Gamecock 13-ft. 6-in.-wheelbase chassis for use at London and Frankfurt Airports. These are designed to deal with all the passenger luggage in a 707 Clipper in 10 minutes. The construction is the joint Work of the airline, Rootes, Ltd., and Palmer Coachbuilder, Ltd.
The leading feature of the vehicle is its adjustable boom, 10 ft. long and capable of movement from ground level to about 60 degrees. The boom, mounted alongside the driver, is hydraulically operated and carries a 30-in, belt conveyor, matching with a similar belt in the body. Both are controlled independently and are driven from the power take-off. Luggage is carried an racks in the van and a translucent plastics roof aids the task of the loader.
All airports are happy hunting grounds for tractors. They vary in size from small, battery-electric units, hauling surprisingly long trains of baggage, to tugs capable of parking the heaviest aircraft. So numerous and varied are the tasks to be carried out in the airport building and on the apron that most of the industrial tractor manufacturers are represented.
Wessex Industries (Poole), Ltd., for example, manufacture trucks and tractors with capacities ranging from 10 cwt. to 10 tons, together with a variety of trailers to work with them. In the 10-cwt. class there are pedestrian-controlled pallet and stillage trucks, and Wrigley electric trucks and tugs of 2-, 3and 4-ton capacity are used for a large number of loading duties. Within the airport building, there is, of course, much to be said for the silent and fumeless battery-electric vehicle.
Out on the tarmac, where much heavier loads have to be moved, the petrolor oil-engined tractor is ubiquitous. Bigger and better aircraft call for bigger and better towing equipment and the trend is towards increased power, multiple-ratio gearboxes and torque converters. A measure of the size of the problem is afforded, perhaps, by the fact that, at take-off, a Boeing 707 weighs nearly 300,000 lb. A bomber, complete with the much-advertised deterrent, scales 500,000 lb. Although when de-fuelled and unloaded, the weights are obviously lower, it is clear that the tractor makers must have plenty of work for the drawing office.
6,600-lb. Drawbar Pull
David Brown Construction Equipment, Ltd., offer the Turbo Taskmaster tractor, an excellent maid-of-all-work with a drawbar pull of up to 6,600 lb. The engine is a 40 h.p. oiler driving through a Brockhouse torqueconverter coupling and twin-range gearbox giving six forward and two reverse speeds. Provision is made for five hitch positions between 12 in. and 241 in. from ground level. Maximum road speed is 21 m.p.h.
A wide range of tractors, with drawbar pulls from 1.400 lb. to 20,000 lb., is manufactured by the Mercury Truck and Tractor Co., Ltd. Their model 70P airtug, powered by a Perkins oil engine of 70 b.h.p., and with Fluidrive hydraulic coupling, is designed to deal with aircraft up to the weight of the Britannia (about 170,000 lb.). This has now been joined by a more powerful model, the 160L, to cope with the Boeing 707 and other craft similarly heavier than air. The engine used is a Leyland 0.680 of 160 b.h.p., with fluid coupling and a self-change five-speed air-operated gearbox. This vehicle weighs 11 tons, of which ballast accounts for rather more than 60 per cent. of the total weight. The effort available is sufficient to haul a 707 against a 25-knot wind up a slope of 1 in 40. One of the most fascinating and effective special vehicles in use at London Airport is the apron version of the wellknown Simon hydraulic platform. This is mounted on a Bedford 7-ton chassis and is used to spray aircraft upper surfaces with de-icing fluid carried in a 250-gal. tank behind the cab. The articulated booms are controlled entirely by the man on the platform, using his feet and knees, so that his hands are free to direct 6-ft. lances, over a working radius up to 29 ft from a height of 54 ft. The hydraulic pump is driven by a Petter petrol engine of 8 h.p. to give smooth vertical, horizontal or rotary movement.
Those who have suffered the unpleasant experience of a high-speed tyre burst on the road will appreciate the absolute necessity of keeping apron and runways clean. This need is met by a variety of mechanical sweepers, each designed for a particular application. There is the small Miles Verro Minor, with its twin, inwards-rotating brushes and suction unit, to sweep a width of 4 ft. 6 in. and deal with awkward corners.
For runway cleansing, Zwicky, Ltd., manufacture a twin-engined machine with a sweeping capacity of 72,000 sq. yd. per hour. One engine drives the vehicle, the other the brushes. The sweep width is 10 ft. and the machine works at up to 12.5 m.p.h.
The Lewin Sweepmaster, employed by many municipal authorities, is to be seen in airport use with a pair of trailer sweeper-sprinklers, each of which has a width of 7 ft. 6 in. The collector boxes are of 10-cu.-ft, capacity and the water tanks hold 120 gal.
Emptied by Tipping
The Lacre system, mounted on the Bedford 6-ton forward-control chassis, employs both suction and sweeping. The suction exhauster is driven from the power take-off, and the brush equipment through a pump, hydraulic motor and chain drive. The container is emptied by a tipping ram and the brush unit is hydraulically con trolled. Its overall dimensions make the vehicle suitable for normal road use.
A hazard inseparable from loading areas is metal, such as swarf and nails, dropped from containers. Ferrous debris of this kind can be speedily dealt with by magnetic sweeps such as those manufactured by the General Electric Co., Ltd, This appliance is towed over the working area and is, in effect, a large container for lead-acid batteries above the magnets. The effective width is 6 ft.
Unless an airport is to close down altogether after a snowstorm, good and sufficient means must be employed to keep the runways clear. The Swiss Rolba rotary plough has a high performance and is used on many airfields, including London Airport. This is a pusher plough mounted at the front of a four-wheel-drive prime mover.
such as the Douglas Pathfinder or the AllWheel Drive 4 x 4.
Both British prime movers are powered by Perkins six-cylindered engines and drive the ploughing unit through Dorman 6LC oil engines, mounted in the truck body. The clearing capacity is 1,500-1,800 tons of snow per hour, making a cut lift. 6 in. wide and up to 4 ft. 6 in. deep.
An unhappy feature of airport flying accidents is that they seldom occur on the runway. For that reason, rescue vehicles must have good cross-country performance, plenty of power and the ability to fight a major fire in its initial stages away from a water supply. Several combinations of chassis, power unit and fire-fighting equipment are available from British manufacturers, Thornycroft Nubian 6 x 6 chassis are used by both the Pyrene Co., Ltd., and Alfd. Miles, Ltd. These are powered by the Rolls-Royce B.81 eight-cylindered petrol engine of 200 b.h.p. The Pyrene crash tender has a total foam output of more' than 10,000 gal. in two minutes from a roofmounted foam monitor and handlines. One version, by reason of its power take-off arrangement, can project foam on the md'Ve.
Jack-knife Doors
Features of the Miles fire tender include jack-knife doors, a 1,000-gal, water tank and a 55-gal. foam-compound tank of glass-fibre. A separate compartment houses a Colientry Climax U.F.P. 600 g.p.m. pump.
The Alvis Salamander 6 x 6 chassis has' also been adopted by Pyrene. This has good off-the-road characteristics and is powered by a Rolls-Royce 240-b.hp. engine. Its foam output is 5,000 g.p.m. for two minutes, discharged from a roof monitor and two hose lines. Accommodation for a crew of six is provided.
The rapid turn-round time demanded by airlines, and the size of the aircraft themselves, have produced a servicing drill which makes the pit of a Grand Prix racing car appear a haven of peace. No sooner has the machine discharged its passengers and proceeded to its allotted stand on the tarmac than it is seized by a squad of men, each member of which is busy doing one particular task.
There is a great deal of checking to be done in the pilot's cabin, there is refuelling, restocking of the galleys, vacuum-cleaning of the passenger compartment, and necessary work to be done in that little cabin at the after-end. All this requires a small fleet of vehicles and trailers to be grouped round the aircraft in such a way that they do not get in each other's way, in spite of the numerous cables and pipes which are suspended between aircraft and tenders.
Perhaps typical of the vehicles in use at British airports are the Karrier Bantams of the water and toilet services, Some, such as those designed by Templewood Hawksley, Ltd., have service platforms above the cab and can be raised hydraulically to 11 ft. from the ground. The water tanker can accept 50 gal. from the aircraft surplus and can pump in 450 gal. of fresh water. The toilet service vehicle has a 500-gal. waste-receiving tank, a 150-gal. flush tank and a 60-gal. tank of detergent.
Many of the aircraft starter units are mounted on trailers, but at least one at London Airport, by AutoDiesels, Ltd., is carried in a Standard Atlas van. The starter engine is a Standard single-stage air-bleed turbine with centrifugal compressor.
The greatly increased thirst of the current airliner and the demand for a quick turn-round at intermediate stops have brought new problems to the refuelling oil companies. Under the spur of both necessity and competition, fuellers in the past year or so have marched from the large to the gigantic. So rapid has been the advance that mere boys in the industry remember the days when 3,000 gal. was regarded as a big load. Today, a " big " tanker has a capacity of at least 10,000 gal. and even these are scarcely large enough.
A refueller of that capacity now in Shell-B.P. service at London Airport is impressive, even when alongside a Comet 4. It is a five-axled " artic," drawn by an A.E.C. Mammoth Major prime mover with 11.3-litre 165 b.h.p. engine. Pumping and metering equipment is housed in a compartment behind the cab: the tractor bodywork is by Duramin Engineering Co., Ltd. The semi-trailer tank, which brings the total length of the vehicle to 50 ft., is by Hawker Siddeley, and the running gear is by Dyson.
So far as large aeroplanes are concerned, the refuelling problem is two-fold: it concerns both capacity and speed of flow. Experience in recent years has taught pump engineers much and the Pegson 6-in, centrifugal pump supplied by Zwicky, Ltd., is rated at 750 g.p.m., with a hose end pressure of 50 p.s.i. The tank has a three-point bottom loading system, permitting a filling rate of 1,000 g.p.m.
Refuellers of similar capacity are also built by Saro (Anglesey), Ltd. Known as the Yorkshire class, two such tankers can supply 18,000-20,000 gal. of aviation turbine fuel in 15 minutes. A prototype is in service at Dorval, Montreal. Other well-known manufacturers in this specialized field include Thompson Bros., Ltd., and the Steel Barrel Co., Ltd.
Even larger, and, indeed, claimed to be the largest articulated refueller in the world, is The 12,000-gal. vehicle built by Steel Barrel for Esso Petroleum Co., Ltd. A Foden FRTU 6/70 tractive unit with Rolls-Royce 210 b.h.p. engine hauls the tanker, which can be operated at up to 70 tons gross train weight with full tanks. The running gear is by Carrimore Six Wheelers, Ltd. A fulltorque power take-off drives the hydraulic generator which feeds the motors of two Pegson pumps mounted on the tractor. Fuel can be dispensed at the rate of 1,000 g.p.m. and two such tankers can load 19,000 gal. into a 707 Clipper in less than 10 minutes.