Welfare Course for Transport Managers
13th May 1960
Page 43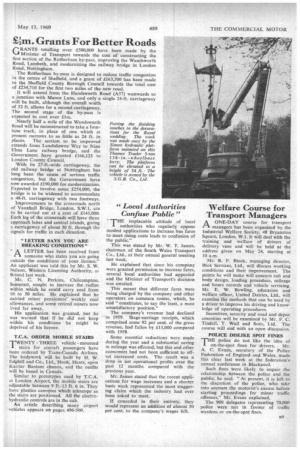 Page 43, 13th May 1960 —
Welfare Course for Transport Managers
Close
Keywords :
AONE-DAY course for transport managers has been organized by the Industrial Welfare Society, 48 Bryanston Square, London, W.1. It will deal with the training and welfare of drivers of delivery vans and will be held at the address given on May 24, starting at 10 a.m.
Mr. R. F. Block, managing director, Blox Services, Ltd., will discuss working conditions and their improvement. The points he will make will concern cab and body design, loading procedure, mileage and hours records and vehicle servicing. Mr. E. W. Bowling, education and welfare officer, United Dairies, Ltd., will examine the methods that can be used by a driver to improve his driving and knowledge of operating procedures.
Incentives, security and road and depot amenities will be examined by Mr. F. C. Tindall, T. Wall and Sons, Ltd. The course will end with an open discussion.
POLICE DISLIKE SPOT FINES police do not like the idea of on-the-spot fines for drivers. Mr. A. C. Evans, secretary of the Police Federation of England and Wales, made this clear last week at the federation's annual conference in Blackpool.
Such fines were likely to impair the relationship between the police and the public, he said. "At present, it is left to the discretion of the police, who take into account the motorist's excuse before starting proceedings for minor traffic offences," Mr. Evans explained.
The 900 delegates representing 70,000 police were not in favour of traffic wardens or on-the-spot fines.