"Local Authorities Confuse Public"
13th May 1960
Page 43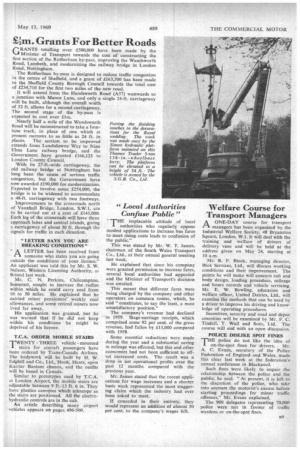 Page 43, 13th May 1960 —
"Local Authorities Confuse Public"
Close
THE implacable attitude of local authorities who regularly oppose modest applications to increase bus fares
to meet rising costs leads to confusion of the public."
This was stated by Mr. W. T. James, chairman of the South Wales Transport Co., Ltd., at their annual general meeting last week.
He explained that since his company were granted permission to increase fares, several local authorities had appealed and the Minister of Transport's decision was awaited.
This meant that different fares were being charged by the company and other operators on common routes, which, he said "constitutes, to say the least, a most unsatisfactory position."
The company's revenue had declined in 1959. Stage-carriage receipts, which
comprised some 92 per cent, of the gross revenue, had fallen by £11,000 compared with 1958.
Some essential reductions were made during the year and a substantial saving in mileage was effected, but this and other
economies had not been sufficient to offset increased costs. The result was a
drop in net operational profits over the past 12 months compared with the previous year.
Mr. James stated that the recent applications for wage increases and a shorter basic week represented the most staggering claim which the industry had ever been asked to meet.
If conceded in their entirety, they would represent an addition of almost 30 per cent, to the company's wages bill.