Elm.. Grants For Better Roads
13th May 1960
Page 43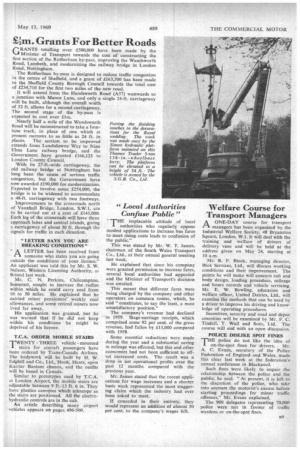 Page 43, 13th May 1960 —
Elm.. Grants For Better Roads
Close
GRANTS totalling over £500,000 have been made by the Minister of Transport towards the cost of constructing the first section of the Rotherham by-pass, improving the Wandsworth Road, Lambeth, and modernizing the railway bridge in London Road, Nottingham.
The Rotherham by-pass is designed to reduce traffic congestion in the centre of Sheffield, and a grant of £163,500 has been made to the Sheffield County Borough Council towards the total cost of £234,710 for the first two miles of the new road.
Nearly half a mile of the Wandsworth Road will be reconstructed to take a fourlane track, in place of one which at present narrows to as little as 24 ft. in places. The section to be improved extends from Landsdowne Way to Nine Elms Lane railway bridge, and the Government have granted £166,125 to London County Council.
With its 27-ft.-wide carriageway, the old railway bridge at Nottingham has long been the cause of serious traffic congestion, but the Government have now awarded £190,000 for modernization. Expected to involve some £254,000, the bridge is to be widened to accommodate a 48-ft. carriageway with two footways.
Improvements to the crossroads north of Vauxhall Bridge, London, S.W.1, are to be carried out at a cost of £141,000. . Each leg of the crossroads will have three approach lanes and central islands, giving a carriageway of about 30 ft. through the signals for traffic in each direction.
" LEITER SAYS YOU ARE BREAKING CONDITIONS"
" A LETTER has been received from
someone who states you are going outside the conditions of your licence." An applicant was told this by Mr. S. W. Nelson, Western Licensing Authority, at Bristol last week.
Mr. C. N,. Perkins, Chilcompton, Somerset, sought to increase the radius within which he could carry coal from 10 to 50 miles. He explained that he carried miner pensioners' weekly coal allowances, and some retired miners now lived far away.
His application was granted, but he was warned that if he did not keep within his conditions he might be deprived of his licence.
T.C.A. ORDER MOBILE STAIRS
'TWENTY THREE vehicle -mounted
stirs for aircraft passengers have been ordered by Trans-Canada Airlines. The bodywork will be built by H. W. Edghill and Co., Ltd., Hook, Hants, upon Karrier Bantam chassis,. and the outfits will be based in Canada.
Similar to prototypes used by T.C.A. at London Airport, the mobile stairs are adjustable between 9 ft.-13 ft. 6 in. They have plastics canopies which telescope as the stairs are positioned. All the electrohydraulic controls are in the cab.
An article describing many airport vehicles appears on pages 496-500.