No Monopoly
13th May 1960
Page 30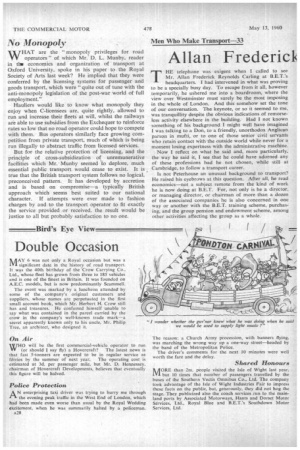 Page 30, 13th May 1960 —
No Monopoly
Close
WHAT are the "monopoly privileges for road operators" of which Mr. D. L. Munby, reader in the economics and organization of transport at Oxford University, spoke in his paper to the Royal Society of Arts last week? He implied that they were conferred by the licensing systems for passenger and goods transport. which were "quite out of tune with the anti-monopoly legislation of the post-war world of full employment."
Hauliers would like to know what monopoly they enjoy when C-licensees are, quite rightly, allowed to run and increase their fleets at will, whilst the railways are able to use subsidies from the Exchequer to reinforce rates so low that no road operator could hope to compete with them. Bus operators similarly face growing competition from private transport, much of which is being run illegally to abstract traffic from licensed -services.
But for the relative protection of licensing, and the principle of cross-subsidization of unremunerative facilities which Mr.. Munby seemed -to deplore, much essential public transport would cease to exist. It is true that the British transport system follows no logical, preconceived pattern. It has developed by accretion and is based on compromise—a typically British approach which seems best suited to our national character. If attempts were ever made to fashion charges by and to the transport operator to fit exactly the service provided or received, the result would be justice to all but probably satisfaction to no one.