Bird's Eye View
13th May 1960
Page 30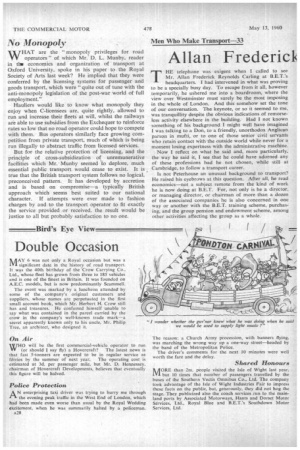 Page 31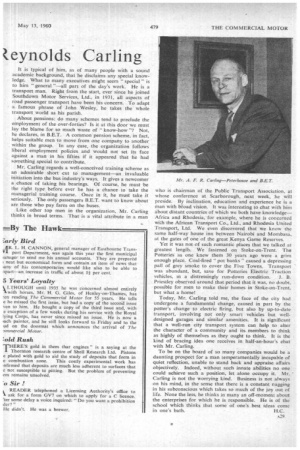 Page 30, 13th May 1960 —
Bird's Eye View
Close
By The Hawk
Double Occasion
AA AY 6 was not only a Royal occasion but was a
significant date in the history of road transport. It was the 40th birthday of the 'Crow Carrying Co., Ltd., whose fleet has grown from three to 185 vehicles and is one of the finest in Britain. It was founded on A.E.C. models, but is now predominantly Scammell.
The event was marked by a luncheon attended by some of the company's original customers and suppliers, whose names are perpetuated in the first small account book, which Mr. Herbert H. Crow still has and treasures. He confessed himself unable to say what was contained in the parcel carried by the crow in the company's well-known trade mark—a secret apparently known only to his uncle, Mr. Philip Tree, an architect, who designed it.
On Air
WHO will be the first commercial-vehicle operator to run (or should I say fly) a Hovercraft? The latest news is that fast 5-tonners are expected to be in regular service as fe'rrics by the summer of next year. The operating cost is estimated at 3d. per passenger mile, but Mr. D. Hennessey, chairman of Hovercraft Developments, believes that eventually this figure will be halved.
Police Protection
AN enterprising taxi driver was trying to hurry me through the evening peak traffic in the West End of London. which had been made even worse than usual by the Royal Wedding excitement, when he was summarily halted by a policeman.
A28
The reason: a Church Army procession, with banners flying,• was marching the wrong way up a one-way street—headed by the band of the Metropolitan Police.
The driver's comments for the next 10 minutes were well worth the fare and the delay.
Shared Honours
N,ORE than 2m. people visited the Isle of Wight last year, M but 10 times that number of passengers travelled by the buses of the Southern Vectis Omnibus Co., Ltd. The company took advantage of the Isle of Wight Industries Fair to impress these facts on the public, but, generously, they did not hog the stage. They publicized also the coach services run to the mainland ports by Associated Motorways, Hants and Dorset Motor Services, Ltd., Royal Blue and B.E.T.'s Southdown Motor Services, Ltd.
i:arly Bird
AR. L. H. CANNON, general manager of Eastbourne TransVI port Department, was again this year the first municipal tanager to send me his annual accounts. They are prepared neat but economical form and contain an item of news that any of his contemporaries would like also to be able to apart—an increase in traffic of about 11 per cent.
5 Years' Loyalty LTHOUGH until 1935 he was concerned almost entirely iwith horses, Mr. H. G. Giles, of Henley-on-Thames, has ;en reading The Commercial Motor for 55 years. He tells e he missed the first issue, but had a copy of the second issue ven to him. He bought a copy of the third issue and, with e exception of a few weeks during his service with the Royal lying Corps, has never since missed an issue. He is now a lach painter, and he still looks forward to Friday and to the ud on the doormat which announces the arrival of The 9mmercial Motor.
:-old Rush THERE'S gold in them thar engines" is a saying at the I Thornton research centre of Shell Research Ltd. Pistons
e plated with gold to aid the study of deposits that form in
e combustion zone. This costly experimental work has ,ntirmed that deposits are much less adherent to surfaces that c not susceptible to pitting. But the problem of preventing ern remains unsolved.
O Sir !
k READER telephoned a Licensing Authority's office to ask for a form GV7 on which to apply for a C licence. 'ter some delay a voice inquired: "Do you want a prohibition der?"
He didn't. He was a brewer.