One Hears— The following Rumours, of which the Press Bureau
13th April 1916
Page 3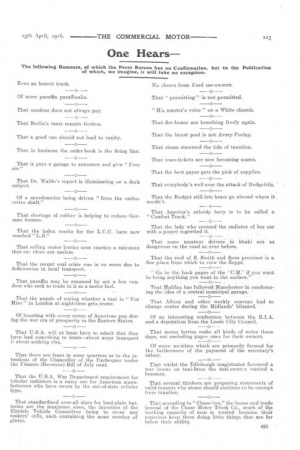 Page 3, 13th April 1916 —
One Hears— The following Rumours, of which the Press Bureau
Close
has no Confirmation, but to the Publication of which, we imagine, it will take no exception.
Even an honest truck.
Of more paraffin paraffinalia.
That candour does not always pay.
That Berlin's taxis remain tireless.
That a good van should not lead to vanity.
That in business the order-book is the firing line.
That it pays a garage to announce and give "Free air."
That Dr. leValdo's report is illuminating on a dark subject.
Of a speedometer being driven "from the carburetter shaft."
That shortage of rubber is helping to reduce German bounce.
That the index marks for the L.C.C. have now reached " L.R."
That selling motor lorries soon teaches a salesman that car ideas are useless.
That the recent coal crisis was in no sense due to deficiencies in local transport.
That paraffin may be renamed by not a few vendors who seek to trade in it as a motor fuel.
That the puzzle of rioting whether a taxi is "For Hire" in London at night-time. gets.worse.
Of boosting with every ounce of American pep during the war era of prosperity in the Eastern States.
That U.S.A. will at least have to admit that they have had something to learn—about army transport if about nothing else.
That there are fears in some quarters as to the intentions of the Chancellor of the Exchequer under the Finance (Revenue) Bill of July next.
That the U.S.A. War Department requirement for tubular radiators is a nasty one for American manufacturers who have sworn by the out-of-date cellular type.
That standardized over-all sizes for lead-plate batteries are the maximum sizes, the intention of the Electric Vehicle Committee being to cover any makers' cells, ea-ch. containing the same number of plates. No cheers from Ford car-owners. That "permitting"is not permitted.
" His master's voice " on a White chassis.
That fire-boxes are breathing freely again.
That the latest pool is not Avery-Pooley.
That steam stemmed the tide of taxation.
That tram-tickets are now becoming scarce. That the best payer gets the pick of supplies.
That everybody's well over the attack of Budgetitis.
That the Budget still lets brass go abroad where it needn't.
That America's subsidy lorry is to be called a "Combat Truck."
That the lady who covered the radiator of her car with a poster regretted it.
That some amateur drivers in khaki are as dangerous on the road as ever before.
That the roof of S. Smith and Sons premises is a fine place from which to view the Zepps.
"Go to the back .pages of the 'C.M.' if .you want to bring anything you want to the surface," That Halifax has followed. Manchester in condemning the idea of a central municipal -garage.
That Albion and other weekly convoys had to change routes during the Midlands' blizzard. .
Of an interesting conference between the R.I.A. and a deputation from the Leeds City Council.
That motor lorries make all kinds of notes these days, not excluding paper ones for their owners.
Of more societies which are primarily formed for the furtherance of the payment of the secretary's salary.
That whilst the Edinburgh magistrates favoured a war bonus on taxi-fares the taxi-owners wanted a bonanza.
That several thinkers are preparing statements of valid reasons why steam should continue to be exempt from taxation.
That according to "Chase-'em," the house and trade journal of the Chase Motor Truck Co., much of the working capacity of men is wasted because their superiors keep them doing little things that are far below their ability.